Alan Pratt
Professor of Humanities
Humanities and Communication Department
Daytona College of Arts & Sciences
Daytona Beach campus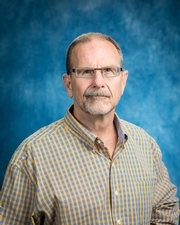 ---
Education
Ph.D. - Doctor of Philosophy in Humanities, Florida State University
M.A. - Master of Arts in Interdisciplinary Humanities, University of West Florida
B.A. - Bachelor of Arts in Interdisciplinary Humanities, University of West Florida
---
Currently Teaching
HU 141: West Hum II:Renais to Postmod
HU 341: World Philosophy
---
Publications
Books
Tales of Florida Fishes, Zane Grey's West Society, 2016 (contributing editor)

The Critical Response to Andy Warhol, New York: Greenwood Press, 1997 (contributing editor)

The Dark Side: Thoughts on the Futility of Life from the Ancient Greeks to the Present,
New York: Citadel Press,1994.

Black Humor: Critical Essays, New York: Garland Publishing, Inc.,1993 (contributing editor)

Selected Articles

From among 23 scholarly essays in five disciplines: art, literature, philosophy, history, & popular culture.

"Appalling Beauty, Dangerous Crossing: Zane Grey at Lee's Ferry," Journal of Arizona History, Winter 2014.

"Zane Grey and the Mountain King," Journal of the West, Vol. 51, No. 3, Summer 2013.

"Zane Grey on the North Rim," Arizona's Centennial: Rendezvous of the Grand Canyon Historians. Flagstaff, AZ: Grand Canyon Historical Society, 2012.
"Motorcycling, Nihilism, and the Price of Cool," Harley Davidson and Philosophy. Chicago, Illinois: Open Court Publishing, 2006.

"Andy Warhol: The Most Controversial Artist of the Century?" The World is a Text. Ed. Jonathan Silverman. New York: Prentice Hall, 2003.

"Modern America and Its Discontents: "The Ride-Hard, Die-Free Fantasy of Bike Week," Americana: The Journal of American Popular Culture. Volume 1, Spring 2002. Reprinted in Readings in American Popular Culture, Press Americana, 2006.
"People are Equally Wretched Everywhere: Candide, Black Humor, and the Existential Absurd," Readings on Candide, Tom Walsh, Ed. San Diego, CA: Greenhaven Press, 2000.
"Heavy Metal Mania: Remembering the Uranium Boom of the 1950s," McNeese Review, Fall 1999.

"Heidegger's Death Analytic: The Tolstoyian Correlative," Analecta Husserliana, Vol. XXXIB, 1992.

Other publications include sundry encyclopedia entries, book reviews, and travel essays.
---