Ann Ade
Assistant Professor, College of Arts & Sciences; Discipline Chair, English
Department of English, Humanities & Communications
Worldwide College of Arts & Sciences
Worldwide campus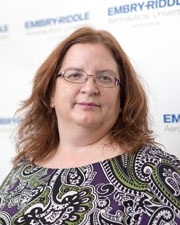 ---
Biography
A resident of Florida, Ms. Ade is the discipline chair for English and Speech at Embry-Riddle Worldwide. She has been with Embry-Riddle since 1992. Ms. Ade has held various positions with Embry-Riddle Worldwide at Patuxent River and Andrews AFB campuses including academic advisor, assistant center director, center director and director of academics. She previously taught high school English in Ilion, NY.

Ms. Ade's dissertation topic is the glass ceiling in aviation management.

In her free time, she enjoys spending time with her young adult son and reading.
---
Education
M.A.S. - Master of Aeronautical Science in Aeronautical Science,

Embry-Riddle Aeronautical University

M.S. - Master of Science in Education,

State University of New York System : College at Cortland

B.A. - Bachelor of Arts in English,

Syracuse University
---
Currently Teaching
ENGL 123

:

English Composition
---