Brent Terwilliger
Assistant Professor, College of Aeronautics; Program Chair, MS Unmanned and Autonomous Systems Engineering
Department of Graduate Studies
Worldwide College of Aeronautics
Worldwide campus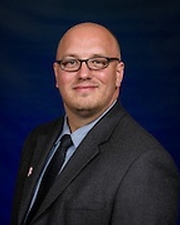 ---
Biography
Dr. Brent Terwilliger is a full time faculty member of the Embry-Riddle Aeronautical University (ERAU)-Worldwide campus where he serves as an Assistant Professor of Aeronautics and Program Chair for the Master of Science in Unmanned Systems (MSUS) degree in the College of Aeronautics. Dr. Terwilliger currently chairs the National Business Aviation Association (NBAA)-Business Aviation Management Committee (BAMC) UAS subcommittee, sits on the editorial board for the Journal of Unmanned Aerial Systems, and is working on several research publications detailing his work on application of UAS for emergency response, human-machine-interface (HMI), modeling and simulation, and situational awareness.

Dr. Terwilliger has more than 10 years' experience working in the aviation/aerospace industry leading integration testing, simulation and training development, and documentation at Rockwell Collins Simulation and Training Solutions (STS, July 2003-Sept 2012, formerly NLX Corp and Evans & Sullivan) and ENSCO (Jan 2001-July 2003, subcontractor to Lockheed Martin-Owego). His research interests include UAS development, teleoperation, situational awareness, human-machine interfaces (HMI), simulation, and human-in-the-loop research. He currently serves as the lead for the Real World Design Challenge (RWDC) Development Team and has presented in multiple industry and academic forums including I/ITSEC, the Ohio UAS Conference, and Unmanned Systems Canada.

---
Education
Ph.D. - Doctor of Philosophy in Business Administration,

Northcentral University

M.A.S. - Master of Aeronautical Science in Aeronautical Science,

Embry-Riddle Aeronautical University

B.S. - Bachelor of Science in Aerospace Studies,

Embry-Riddle Aeronautical University
---
Ratings and Certificates
---
---
Memberships and Credentials
His active professional memberships include the Association for Unmanned Vehicle Systems International (AUVSI), the National Defense Industrial Association (NDIA), and the National Training and Simulation Association (NTSA). Dr. Terwilliger also serves as a member of the Interservice/Industry Training, Simulation and Education Conference (I/ITSEC) Simulation subcommittee and holds a Technician Class Amateur Radio license.
---
Awards, Honors and Recognitions
2014 ERAU Worldwide Faculty Member of the Year