Constantine M. Koursaris
Associate Professor, College of Business
Department of Decision Sciences
Worldwide College of Business
Worldwide campus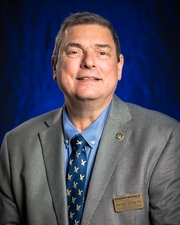 ---
Biography
Dr. Constantine M. Koursaris is an Assistant Professor and the Program Chair of Logistics and Supply Chain Management in the Department of Decision Sciences, College of Business, at Embry-Riddle Aeronautical University, Worldwide. He previously served as the Assistant Program Chair for the M.S. in LSCM and Program Chair for the A.S and B.S. in LSCM. He is currently serving his third term as an ERAU-W Faulty Senator, representing COB.

Dr. Koursaris' primary research focuses on the best operational organizational scenario in the supply chain management of a company's product throughout the software/system development life cycle phases to improve product quality and organizational efficiency and performance. He has presented in several conference proceedings.

Dr. Koursaris enjoys reading and spending quality time with his family, camping, traveling, long-distance swimming, and karate. He has served as a Flotilla Staff Officer in the Department of Public Education of the United States Coast Guard Auxiliary, and received the Presidential Award for his contributions in supporting USCG missions protecting waterways around Kennedy Space Center during NASA launches.

---
Education
Ph.D. - Doctor of Philosophy in Operations Research,

Florida Institute of Technology

M.S. - Master of Science in Systems Engineering,

Florida Institute of Technology

M.S. - Master of Science in Engineering Management,

Florida Institute of Technology

B.S. - Bachelor of Science in Computer Science/Sci Option,

Southern University
---
Research Projects
---
Memberships and Credentials
Dr. Koursaris has been affiliated with several professional memberships, including the Association for Computing Machinery, The Decision Sciences Institute, Society for Industrial and Applied Mathematics, Production and Operations Management Society, The International Council on Systems Engineering, The Institute of Electrical and Electronics Engineers, The Institute for Operations Research, and the Management Sciences.
As a Computer Scientist, Dr. Koursaris was tasked to provide project management and logistics support to Space Shuttle ground operations. He led software development efforts of the Electronic Inspection Tool (EIT), a custom-designed laser scanner and software application to measure and to assess thermal protection system (TPS) damages in preparation of Space Shuttles' upcoming missions.
Dr. Koursaris co-authored the lockout/tagout of the Crew Module (LOTO-CM), a software application that logged the identification and documentation of the state of more than 2,000 switches and circuit breakers installed in the Shuttles' crew modules, in order to conform with OSHA requirements. Both EIT and LOTO-CM are transferable technologies to the newly developed spacecraft systems.
As a Senior Instructor, Dr. Koursaris is certified to teach more than 12 NASA-required employee certification courses to members of management, engineering, and technical staff on Space Shuttle & Solid Rocket Booster concepts. He taught courses emphasizing systems and component-level functions, including safety factors. As a Senior Systems Engineer, Dr. Koursaris was a member of the Orion Processing & Strategic Management Team of NASA's Constellation Program. Dr. Koursaris was responsible of performing modeling & simulation mission success feasibility studies as specified in the Constellation Architecture Requirements Document (CARD).
---
Awards, Honors and Recognitions
Dr. Koursaris received two NASA Inventions and Contributions Board Awards "For the creative development of technically significant software and technological contribution in the advancement of the space and aeronautical activities at NASA" and was recognized for his outstanding contributions during the recovery and investigation of STS-107 Space Shuttle Columbia accident, where EIT was instrumental in the identification and reconstruction of Columbia's underbelly. Dr. Koursaris received the NASA Group Achievement Award "In recognition of outstanding performance in the development and implementation of the electronic inspection tool and the electronic maps to document in-flight orbiter tile debris hits".