Gary Yale
Associate Professor Aerospace Engineering
Aerospace Engineering Department
Prescott College of Engineering
Prescott campus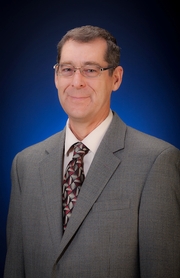 ---
Education
Ph.D. - Doctor of Philosophy in Aeronautical and Astronautical Engineering,

Naval Postgraduate School

M.S. - Master of Science in Aeronautics and Astronautics,

Massachusetts Institute of Technology

B.S. - Bachelor of Science in Astronautical Engineering,

USAF Academy

B.S. - Bachelor of Science in Engineering Sciences,

USAF Academy
---
Publications
Gregory Parnell, Nicholas Hardman, Daniel McCarthy, and Gary Yale, "Using the Guide to the Systems Engineering Body of Knowledge (SEBoK version 0.5) for Undergraduate System Engineering Program Assessment," INCOSE International Symposium, Volume 22, Issue 1, Pages 2208-2220, first published online: 4 Nov 2014.

Paul Lambertson, John Pletcher Jr., and Gary Yale, "What the United States Air Force is Doing Right About Systems Engineering," AIAA Journal of Aircraft, Volume 48, Number 3, Pages 771-776, May-June 2011.
---
Professional Experience
24 years as an astronautical engineer in the United States Air Force. Assignments included development of the next generation spacecraft technology, spacecraft acquisitions, operations of DoD space assets, and academia
Systems Engineering, Spacecraft Design, Orbital Mechanics

2012 – Present. Associate Professor in the Aerospace and Mechanical Engineering Department at Embry-Riddle Aeronautical University-Prescott Campus
2006-2012. Assistant Professor for Systems Engineering, Erdle Chair of Systems Engineering in the Department of Aeronautics at the United States Air Force Academy, CO
2005-2006. Project Manager, Engineering Career Development (NASA APPEL Contract), Academy of Program/Project and Engineering Leadership (APPEL), Office of the Chief Engineer, NASA Headquarters, Washington, D.C.
1995-2005. Assistant Professor, Deputy Department Head, Deputy for Operations, Deputy for Labs and Research, Deputy for Curriculum and Assessment, and Engineering Systems Division Chief in the Department of Astronautics at the United States Air Force Academy, CO
1997-1998. Honorarium Instructor in the Department of Mechanical and Aerospace Engineering at the University of Colorado, Colorado Springs, CO
1993-1995. Chief of the Guidance Navigation and Control Branch, Phillips Laboratory, Kirtland Air Force Base, NM
1990-1993. Ph.D. Student, Naval Postgraduate School, Monterey, CA
1988-1990. Instructor, Department of Astronautics at the United States Air Force Academy, CO
1984-1988. Spacecraft Subsystem Engineer, Space Division, Los Angeles Air Force Base, CA
1983-1984. M.S. Student, Massachusetts Institute of Technology, Cambridge, MA
1981-1983. Operations Director, Air Force Satellite Control Facility, Sunnyvale Air Force Station, CA
---
Memberships and Credentials
International Council on Systems Engineering
American Institute of Aeronautics and Astronautics
American Society for Engineering Education
Tau Beta Pi National Honor Society for Engineering
Sigma Gamma Tau National Honor Society for Aeronautical and Astronautical Engineering
Order of the Engineer
---
Awards, Honors and Recognitions
Department of Astronautics Outstanding Academy Educator, 2005
AZ/NASA Space Grant Associate Director
Campus Undergraduate Research Institute (URI) Advisory Board Member