Gloria Wilson
Assistant Professor of the Practice, College of Aeronautics
Department of Flight
Worldwide College of Aeronautics
Worldwide campus
Office Hours
Anytime by phone, text, or email. Expect a response within 48 hours.
Areas of Expertise
Corporate/Commercial Aviation and Entrepreneurship.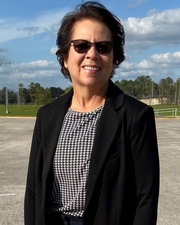 ---
Biography
Gloria Wilson is a contract faculty member and Program Chair of the Master of Entrepreneurship in Technology with Embry-Riddle Aeronautical University's College of Aeronautics. Prior to assuming this position, she was the Director of Academics for Embry-Riddle Aeronautical University's Sheppard campus in Wichita Falls, Texas. She has been employed by ERAU since 2007 and previously held the position of Adjunct Instructor. She specializes in teaching all aspects of aviation, safety, human factors, and entrepreneurship; won Faculty of the Year in 2010 and COA Making a Difference 2016 - 2017. Prior to beginning her work at the University, she was employed by the Wichita Falls Independent School District at Hirschi High School; launching a high school pilot training program for the district. This successful program laid the ground work for many of her students who have gone on to pursue careers in aviation and in the military. She was a certified flight instructor and has amassed over 4,000 flight hours in aircraft ranging from single engine Cessna's to a Boeing 737. Her time as an operator led her to work as a corporate and commercial pilot, flying both domestic and international, as well as air ambulance and charter.
---
Education
M.A.S. - Master of Aeronautical Science in Aeronautical Science,

Embry-Riddle Aeronautical University

B.S. - Bachelor of Science in Aviation Management,

University of Central Texas

A.A.S. - Associate of Applied Science in Career Pilot,

Central Texas College
---
Ratings and Certificates
---
Currently Teaching
SFTY 320

:

Human Factors in Avia Safety

COIN 498

:

Co-Operative Education
---
Courses Taught
ASCI 254, ASCI 320, ASCI 409, SFTY 345, ASCI 516, ASCI 516, ASCI 604, ASCI 618, MoET 601, MoET 606
---
Professional Experience
Corporate/Commercial Pilot (ATP, Airplane Multi-engine Land, Learjet/B-737 Type Ratings), Flight Instructor (Exp.), Instructor (High School), Assistant Professor, and Business Owner.
---
Memberships and Credentials
Member of USASBE, Certified Innovator Mindset Associate - University Level Instruction, Member of Loving Volunteer Fire Fighters
---
Awards, Honors and Recognitions
2010 Faculty of the Year Award, 2016 - 2017 COA Making a Difference Award