Jennifer O'Bryon
Assistant Professor, College of Business
Department of Business Administration
Worldwide College of Business
Worldwide campus
Office Hours
Anytime by appointment
Areas of Expertise
Doctorate of Business Administration (ABD) Northcentral University
PhD Business Administration (attending) Capella University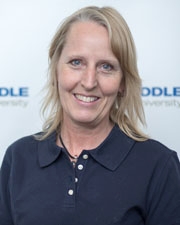 ---
Biography
Education: I attended my first ERAU class in 1985 at Ramstein Air Base in Germany, while serving in the Air Force as a weapons technician. I obtained my associate degree in Weapons Technology with the College of the Air Force and my private pilot license with the Ramstein Air Base Aero Club during my enlistment. I then obtained my Bachelor and Master degrees in Aeronautical Science studies with ERAU, as well as my helicopter private pilot rating. I completed all but my dissertation towards a Doctorate of Business Administration, specializing in aviation management, with Northcentral University in Prescott, Arizona. I continue to work toward the completion of my dissertation.
Organizations: I was a member of the National Association of State Aviation Officials during my tenure with the Maine Department of Transportation. I continue my membership with the American Association of Airport Executives and the Aircraft Owners and Pilots Association.
Awards and Experience: I spent over 20 years in the aviation industry prior to my fulltime employment with Embry-Riddle Aeronautical University. My aviation career consisted of working as an airport planning project manager with DOWL engineering consultant firm, the Deputy Director of Administration with the Portland International Jetport in Maine, the Aviation Policy and Planning Specialist with the Maine Department of Transportation, an Airport Operations Specialist with the Boise International Airport, and an Airport Operations Planner with Sverdrup Aviation consultant firm.
---
Education
M.A.S. - Master of Aeronautical Science in Aeronautical Science (Specialization: Av Aerospace Operations),

Embry-Riddle Aeronautical University

B.S. - Bachelor of Science in Aeronautical Studies,

Embry-Riddle Aeronautical University
---
Ratings and Certificates
---
Currently Teaching
MGMT 408

:

Airport Management

MGMT 419

:

Aviation Maintenance Mgmt
---
Courses Taught
ASCI 401 - Airport Operations and Development
ASCI 645 - Airport Management
MGMT 408 - Airport Management
MGMT 412 - Airport Planning and Design
BSAB 418 - Airport Administration and Finance
MGMT 415 - Airline Management
MGMT 419 - Aviation Maintenance Management
BSAB 425 - Trends and Current Problems in Aviation
BSAB 426 - International Aviation Management
---
Professional Experience
ERAU-WW - Program Chair, Associate/Bachelor of Science in Aviation Business Administration (2011 - present)
Daniel Webster College - Instructor (2012 - 2013)
University of Alaska - Instructor (2012)
Alaska Department of Transportation - Airport Leasing Specialist (2011 - 2012)
DOWL-HKM Aviation Consultants - Senior Airport Planner (2011)
Portland International Jetport - Deputy Airport Director (2008 - 2011)
Maine Department of Transportation - Aviation Policy Analyst/Aviation Planning Specialist (1997 - 2008)
Augusta State Airport - Airport Manager (2005 - 2006)
City of Boise, Boise International Airport - Airport Operation Specialist (1196 - 1997)
Sverdrup Aviation - Airport Operations Planner (1993 - 1996)
National Business Systems - Graphic Artist (1991 - 1993)
United States Air Force - Nuclear Weapons Technician (1986 - 1990)
Asheville High School, North Carolina - High school diploma (1982)
Maine Department of Transportation Office of State Training & Organizational Development:
The Power of Professionalism - May 2008
Leadership Communication - May 2008
Leadership Development Training - June 2007
Conflict through MBTI Lens- April 2007
Leadership Lessons Learned from Katrina - November 2006
Introduction to the Legislative Process - October 2006
Maine Leadership Institute - September 2006
Ethics and Moral Courage in Public Administration - November 2005
Communicating with Confidence - May 2005
Organizational Development - Related Methods - March 2005
Organizational Development - Organizational Improvement - January 2005
Effective Meetings - October 2004
The Art of Teamwork - October 2004
Dealing with Difficult Customers - September 2004
Effective Communication - August 2004
American Association of Airport Executives:
Airport Security Coordinator Training School - November 2007
Department i Homeland Security:
Maine Emergency Transportation Seminar - November 2003
---