John C. Griffith
Associate Professor, College of Arts & Sciences; Department Chair, Mathematics, Physical & Life Sciences
Department of Mathematics,Physical & Life Sciences
Worldwide College of Arts & Sciences
Worldwide campus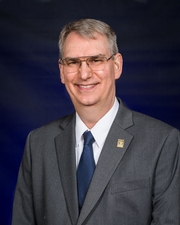 ---
Biography
Dr. John Griffith currently resides in Port Orange, FL. John has been a part of Embry-Riddle Aeronautical University since 2001. He has served as an adjunct instructor, Sheppard AFB campus Director of Academics, Western Region Associate Dean of Academics, and BS in Interdisciplinary Studies Program Chair prior to his current role as Department Chair. John has been married to his wonderful wife Sonja since 1986. They have two adult children: Tina and J.R. The Griffith family have all served in the US Air Force.
Dr. Griffith's research focus areas are Emergency Services Management and Distance Learning.
---
Education
Ph.D. - Doctor of Philosophy in Appl Tech Training & Dev,

University of North Texas

M.S. - Master of Science in Administration - General Administration,

Central Michigan University

B.S. - Bachelor of Science in Health Care Management,

Southern Illinois University System : Carbondale
---
Currently Teaching
---
Courses Taught
Statistics, Research Methods
---
---
Publications
A Comparison of Online and Traditional Chemistry Lecture and Lab. (Faulconer, Emily K., Griffith, John C., Wood, Beverly L., Acharyya, Soumyadip, and Roberts, Donna L.), Journal of Chemistry Education Research and Practice. DOI: 10.1039/C7RP00173H (2017).
---
Professional Experience
Dr. Griffith served 23 years in the United States Air Force to include 3 years as a ground equipment mechanic, 2.5 years as a firefighter and 17 years as a Medical Service Corps officer. His last Air Force position was commander of the 882nd Medical Training Support Squadron where he retired as a Lieutenant Colonel. Publications/Area of Research: Dr. Griffith has published and presented articles in the personnel administration, emergency services and distance education fields. Awards include: the National Association of Developmental Education 1999 Outstanding Research Project, the 2014 Bollinger-Rosado Symposium Vance Mitchell Award, the 2014 Finance, Economics, MIS and Global Business Research Conference "Best Presenter Award" and the 2016 College of Arts and Sciences "10 Month Faculty of the Year." His research can be reviewed at http://works.bepress.com/john_griffith/
---