Michael Santonino
Assistant Professor, College of Business
Department of Business Administration
Worldwide College of Business
Worldwide campus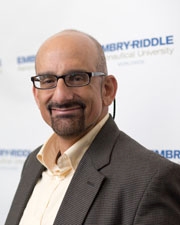 ---
Biography
Dr. Michael D. Santonino III is the Assistant Chair for the MBA in Aviation Program at Embry-Riddle Worldwide and resides in Daytona Beach, Fla.
Dr. Santonino's research interests include international business and education, the study abroad industry in Italy, management theory and practice, re-engineering and quality process, organizational culture and change management, manufacturing process design and innovation, radio-frequency technologies, customer value, marketing, and consumer behavior.
Originally from Flushing, Queens, in New York City, he grew up playing baseball with major leaguers. Dr. Santonino is a high-energy individual who enjoys developing others, researching, traveling abroad, publishing, and attending international conferences. He continues to study Italian while living in Florence, Italy, during the summer.
---
Education
D.B.A. - Doctor of Business Administration in Management and Marketing, Nova Southeastern University
M.B.A. - Master of Business Administration in Business Administration, Nova Southeastern University
B.S. - Bachelor of Science in Electrical Engrg, New York Institute of Technology
---
Courses Taught
MBAA 630, MBAA 635, MBAA 633, MBAA 604, MBAA 522, MBAA 520
---
Research Projects
---
Professional Experience
​Dr. Santonino is a management practitioner with more than 15 years of corporate experience working for military defense contractors and commercial corporations such as; AT&T Bell Laboratories, Lucent Technologies, Agere Systems, Motorola, Harris, General Instruments, Fairchild Weston Systems, and Raytheon. He has held various positions in management, research, and development, design, and high-volume manufacturing. His career path in education started in 2001 teaching engineering and business courses. After earning his doctorate in 2003 he began teaching management courses full time at several universities and colleges.
---
Memberships and Credentials
Academy of Management
---