Seyed Mehdi Zahraei
Visiting Assistant Professor of the Practice, College of Business
Department of Decision Sciences
Worldwide College of Business
Worldwide campus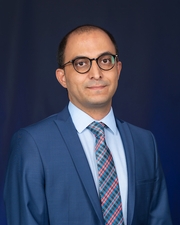 ---
Biography
Dr Zahraei is currently a visiting assistant professor in the Department of Decision Sciences at the Worldwide College of Business at Embry Riddle Aeronautical University.
Dr Zahraei's main teaching interests are in supply chain management, quantitative modelling, operations management, and transportation planning. His research interests include supply chain management, freight management, sustainability in logistics and transportation systems, and urban logistics.
---
Education
Ph.D. - Doctor of Philosophy in Logistics and Supply Chain Management, Nanyang Technological University
---
Currently Teaching
LGMT 683: Supply Chain Management
MGMT 444: Principles of Supply Chain Mgt
---
Courses Taught
MGMT 420 – Management of Production and Operations

MGMT 411 – Logistics Management for Aviation/Aerospace

MBAA 651 – Production and Procurement in Aviation

BSAB 410 – Management of Air Cargo

MGMT 524 – Management Science

LGMT 683 – Supply Chain Management
---
Publications
Zahraei, S.M., & Teo, C. C. (2017). Optimizing a Supply Network with Production Smoothing, Freight Expediting and Safety Stocks: An Analysis of Tactical Trade-Offs. European Journal of Operational Research, 262(1) 75–88.
Zahraei, S.M., & Teo, C. C. (2018). Value of Production Smoothing in Recover-And-Assemble Remanufacturing Systems. International Journal of Production Economics, 197C 330–341.

Wei Yim Yap, Seyed Mehdi Zahraei, (2018) "Liner shipping alliances and their impact on shipping connectivity in Southeast Asia", Maritime Business Review, Vol. 3 Issue: 3, pp.243-255
---
Professional Experience
Dr Zahraei has worked as a lecturer (equivalent to Assistant Professor) in the Logistics and Supply Chain Management Programme at the Singapore University of Social Sciences (SUSS) Business School. Prior to joining SUSS, he worked as an assistant professor at the Worldwide College of Business of the Embry-Riddle Aeronautical University, Singapore Campus (ERAU Asia). Before joining the ERAU Asia, he was a logistics and transportation systems postdoctoral research fellow in the Singapore University of Technology and Design and supply chain management research fellow at Nanyang technological University (NTU) and also worked as a part-time lecturer at Curtin University in Singapore. Before starting his PhD studies at NTU, he also worked as a transportation engineer for three years.
---
Memberships and Credentials
Member, Institute for Operations Research and the Management Sciences.
Member, Production and Operations Management Society.
Member, European Operations Management Association.
Member, Chartered Institute of Logistics and Transport, Singapore.
---