Aaron Glassman
Associate Professor, College of Business; Department Chair, Management and Technology
Department of Management and Technology
Worldwide College of Business
Worldwide campus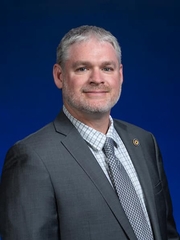 ---
Biography
In addition to professional aviation, Dr. Glassman founded a 1,700-member technical support group dedicated to the Piper Cherokee aircraft and was an active Angel Flight pilot and aircraft owner for 13 years. During his tenure at Angel Flight, Dr. Glassman was awarded the Hampton Roads Finest Pilot award for his volunteer service. Dr. Glassman also volunteers as a Code Adam response pilot, using aircraft to search for missing children, and a Homeland Security Emergency Air Transportation pilot, where missions are flown in support of disaster recovery.
His research interests include managerial decision making, aeronautical decision making, the academic/practitioner gap, and how aviation concepts can be used in traditional organizations.
In his spare time, Dr. Glassman enjoys public speaking and serves as a pro bono business consultant for several woman- and minority-owned businesses.
---
Education
D.Mgt. - Doctor of Management in Management,

University of Maryland System : University College

M.A.S. - Master of Aeronautical Science in Aeronautical Science,

Embry-Riddle Aeronautical University
---
---
Publications
Glassman, A. M., Newcomer, J. M., Earnhardt, M. P., Opengart, R. A., Watkins, D. V., Marion, J. W. (2015). Validating the knowledge, skills, and abilities composite measure: An aviation industry pilot study.
International Journal of Aviation, Aeronautics, and Aerospace, 2
(3). doi:10.15394/ijaaa.2015.1067
Glassman, M., Glassman, A., Champagne, P. J., & Zugelder, M. T. (2010). Evaluating pay-for-performance systems: Critical issues for implementation.
Compensation & Benefits Review, 42
(4), 231-238. doi:10.1177/0886368710374391
McNatt, B., Glassman, M., & Glassman, A. (2010). The great academic-practitioner divide; A tale of two paradigms.
Global Education Journal, 2010
(3), 6-22
Glassman, A. (2009, Winter) What does PTS proficiency mean to you?
BACTalk - the Official Journal of the Beech Aero Club, Winter
, 10.
Ellis, S. (2006, March). Don't be a fuel fool.
AOPA Pilot Magazine, 49
(Original quantitative research cited in article.)
Glassman, A. (2005).
Guide to becoming a professional flight instructor (PRO-CFI manual)
(1st ed.). Norfolk, Va.: AEI-Press.
---
Professional Experience
Dr. Glassman has been involved in aviation as a pilot for 17 years and aviation business management for 11 years as both an aviation business owner and consultant. Dr. Glassman also has served as an expert witness in numerous aviation-related court cases.
---
Memberships and Credentials
Dr. Glassman is a member of the Academy of Management and has scholarly publications in several peer-reviewed business journals and aviation trade publications. He holds every flight instructor rating in aircraft and is a FAA Safety Team Member.
---
Awards, Honors and Recognitions
Master Flight Instructor designation from the National Association of Flight Instructors
Gold Seal Flight Instructor designation from the Federal Aviation Administration