Tony Farina
Title

Adjunct Assistant Professor

Email

Department

Department of Engineering and Technology

College

College of Aviation
Office Hours
by request via email, Skype or telephone
Areas of Expertise
Applied aerodynamics; subsonic, supersonic, hypersonic; static and dynamic stability; flight projectile design and testing, Flight trajectory analysis; wind tunnel testing. UAV design and analysis. Forensic Ballistics (Government and civilian police)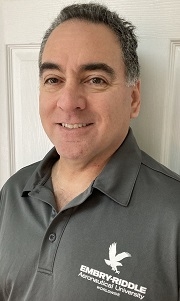 ---
External Links
---
Education
Ph.D. - Doctor of Philosophy in Engineering: Mechanical Engineering, Stevens Institute of Technology
M.Eng. - Master of Engineering in Integrated Product Development, Stevens Institute of Technology
B.S. - Bachelor of Science in Aerospace Engineering, SUNY University at Buffalo
---
---
Currently Teaching
ESCI 204: Dynamics
ETEC 490: Engineering Tech Capstone I
---
Courses Taught
ASCI509 - Advanced Aerodynamics, Embry-Riddle Aeronautical University
UASE501 - Intro Unmanned Aircraft Sys Design, Embry-Riddle Aeronautical University
ETEC490 - Engineering Tech Capstone Course, Embry-Riddle Aeronautical University
ETEC485 - Professional Seminar, Embry-Riddle Aeronautical University
ETEC420 - Apps of Engineering Technology, Embry-Riddle Aeronautical University
ESCI204 – Dynamics, Embry-Riddle Aeronautical University
ME800 - Unmanned Aerial Vehicle Design, Stevens institute of Technology
ME802 - Munitions & Energetics Design, Stevens Institute of Technology
---
Professional Experience
Dr. Farina was the lead aerodynamicist and core team member on more than 8 fielded flight projectile designs which are in use by the US and its allies worldwide.  His role included conceptual design; wind tunnel testing at more than ten wind tunnels across the United States including NASA, the US Air Force, the US Navy and aerospace contractor facilities, flight testing and development of data reduction techniques, design refinements, and design recommendations to major contractors. Due to his extensive design and analysis experience,
Dr. Farina was often consulted on by other engineers, project managers and defense contractors.   
He has served as technical expert and lead aerospace engineer on more than a half dozen Source Selection Evaluation Boards. No SSEB that Dr. Farina participated in was ever contested on technical grounds.
Dr. Farina has performed forensic ballistics investigations for the NJ State Police, prosecutors' offices, and local police departments.  His findings have led to convictions and changed pleas.
---
Memberships and Credentials
Associate Fellow, AIAA
AIAA Applied Aerodynamics Technical Committee, 2007-2012, 5 year term

Design, Build, Fly: National Judge, AIAA, 2014-2022

Chief of Staff, New Jersey Wing Civil Air Patrol, 2021-present

---