Brian Sanders
Title

Associate Professor, College of Aeronautics; Chair, Department of Engineering and Technology

Email

Department

Department of Engineering and Technology

College

Worldwide College of Aeronautics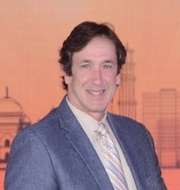 ---
Biography
Throughout his Air Force career, Dr. Sanders has served in a variety of positions that include aircraft weapon systems technician, acquisition officer, and several senior scientific positions within the Air Force Research Laboratory. His scientific background includes basic and applied research in developing new Air Force weapon system capabilities in gas turbine engines, hypersonic flight vehicles, and unmanned aerial systems (UAS).
His research in the area of adaptive structures was groundbreaking. Dr. Sanders' research and leadership led to successful demonstrations of morphing aircraft structures for future UAS. He is pioneering multi-organizational programs that bring high-quality technical information early in the acquisition timeline via qualitative decision-making tools and state-of-the-art modeling and simulation techniques.
Dr. Sanders is an internationally recognized researcher. He has published more than 70 journal articles, conference publications, and technical reports, and he is frequently an invited conference speaker. Dr. Sanders is regularly requested to initiate and lead new research efforts within the Air Force and Department of Defense. The Air Force Office of Scientific Research (AFOSR) and the Defense Advance Research Project Agency (DARPA) utilize his scientific and technical expertise to establish new research areas and to lead and advise groundbreaking technical efforts of significance to ACC.
Organizations: American Institute of Aeronautics and Astronautics (AIAA); American Society of Mechanical Engineers (ASME); Vice Chair ASME Aerospace Division Executive Committee; ASME Adaptive Structures and Material Systems Technical Committee; AIAA Structures Technical Committee; Engineering Program Advisory Committee, United States Air Force Academy; Associate Editor, Journal of Intelligent Material Systems and Structures
Career: Weapon Systems Technician, 479th AGS, Holloman AFB (NM), 1980-82; Weapon Systems Crew Chief, 479th AGS, Holloman AFB (NM), 1982-83; Logistics Engineer, Strategic Systems Program Office, Wright Patterson AFB (OH), 1985-87; Logistics Engineer, Short Range Attack Missile II Program Office, Wright Patterson AFB (OH), 1987-89; Researcher, High Temperature Composite Materials Branch, Air Force Research Laboratory, Materials Directorate, Wright Patterson AFB (OH), 1992-95; Program Manager, Structural Mechanics Program, Air Force Office of Scientific Research, Washington, D.C., 1995-99; Senior Research Scientist, Air Force Research Laboratory, Air Vehicles Directorate, Wright Patterson AFB (OH), 1999-2002; Adaptive Structures Team Leader, Air Force Research Laboratory, Air Vehicles Directorate, Wright Patterson AFB (OH), 2002-08; Assistant Chief Scientist, Air Combat Command, Langley AFB (VA), 2008-13
Awards: Honor Graduate Basic Military Training; Honor Graduate Weapon Systems Technical School; Air Force Good Conduct Medal; Air Force Achievement Medal; Air Force Commendation Medal; National Defense Service Medal; Meritorious Service Medal (2); Inspector General Award for Management of SRAM II Logistics Engineering Program; Associate Fellow, American Institute of Aeronautics; Sigma Gamma Tau (National Aerospace Honor Society); Tau Beta Pi (National Engineering Honor Society)
---
Education
Ph.D. - Doctor of Philosophy in Doctoral Studies/Aerospace Structures,

Air Force Institute of Technology

M.S. - Master of Science in Aerospace Engineering,

University of Dayton

B.S. - Bachelor of Science in Aerospace Engineering,

University Of Southern California
---