Chelsea LeNoble
Title

Assistant Professor, College of Arts and Sciences

Email

Department

Department of Applied Sciences

College

College of Arts & Sciences
Areas of Expertise
Industrial/Organizational Psychology
Occupational Health Psychology
Occupational Stress & Resilience
Leadership & Team Development
Program Assessment & Evaluation
Multiteam Systems
Multilevel Modeling
Event Sampling Methods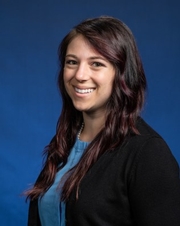 ---
External Links
---
Biography
Dr. Chelsea A. LeNoble is an assistant professor of Industrial/Organizational Psychology in the department of Applied Sciences at Embry-Riddle Aeronautical University – Worldwide. Her research program focuses on the individual, team-level, and organizational factors related to employee engagement, resilience, and recovery from work stress. Part of a human resilience faculty cluster, Dr. LeNoble works with scholars across disciplines to support high-stress occupations such as healthcare workers and first responders. Her work on occupational health and well-being has been funded by the National Institute for Occupational Safety and Health, the National Science Foundation, and the Natural Hazards Center. Dr. LeNoble earned her Ph.D. in Industrial/Organizational Psychology from Florida Institute of Technology. After graduating, she completed a 2.5-year postdoctoral fellowship at Clemson University and Prisma Health in Greenville, SC. As an embedded scholar within the health system, she led interdisciplinary research projects on burnout and resilience, employee well-being and engagement, and leadership and team development.
---
Education
Ph.D. - Doctor of Philosophy in Industrial/Organizational Psychology, Florida Institute of Technology
M.S. - Master of Science in Industrial/Organizational Psychology, Florida Institute of Technology
B.A. - Bachelor of Arts in English: Psychology, Stetson University
---
Ratings and Certificates
---
Currently Teaching
PSYC 326: Group and Team Behavior
PSYC 340: Indus/Orgznl Psychology
RSCH 202: Intro to Research Methods
---
---
User Publications
Vanhove, A. J., LeNoble, C., & Fisher, D. (2020). Individual and team resilience: An integrated perspective. Academy of Management Proceedings (Vol. 2020, No. 1, p. 18192). Briarcliff Manor, NY 10510: Academy of Management.
LeNoble, C.A., Pegram, R., Shuffler, M., Fuqua, T., & Wiper, D. (2020). To address burnout in oncology, we must look to teams: Reflections on an organizational science approach. Journal of Oncology Practice. DOI: 10.1200/JOP.19.00631
LeNoble, C.A. & Faulconer, E.K. (2020, July). Supporting safety culture in academia: Giving a Voice to Faculty, The Department Chair. https://doi.org/10.1002/dch.30326
Faulconer, E. K., & LeNoble, C. (2020). Supporting Safety Culture in Academia, Part 1: Safety Communication Barriers. The Department Chair, 30(4), 15-16.
McLeod, P. L., Cunningham, Q., DiazGranados, D., Dodoiu, G., Kaplan, S., Keyton, J., Larson, N., LeNoble, C., Marsch, S. U., O'Neill, T., Henrickson Parker, S., Semmer, N. K., Shuffler, M., Su, L., Tschan, F., Waller, M. & Yang, Y. (2019). Hacking teamwork in healthcare: Addressing adverse effects of ad hoc team composition in critical care medicine. Healthcare Management Review. DOI: 10.1097/HMR.0000000000000265
LeNoble C.A. and Fredendall L.D. (2019). Further linking Lean management and I-O psychology: A focus on capacity buffers. Industrial and Organizational Psychology 12, 267–271. https://doi.org/10.1017/iop.2019.58
Lazzara, E. H., Shuffler, M., LeNoble, C., Weaver, S., & Chollette, V. (2018). Teams aren't enough: Considering multiteam systems for better cancer care. Journal of Clinical Oncology, 36:30_suppl, 231-231.
Diefendorff, J. M., Richard, E. M., Dinh, P. V., & LeNoble, C. (2018). Action-state orientation at work: Dynamic effects in organizational contexts. In N. Baumann, M. Kazén, M. Quirin, & S. L. Koole (Eds.), Why people do the things they do: Building on Julius Kuhl's contributions to the psychology of motivation and volition (p. 303–321). Hogrefe Publishing.
Griffith, R. L., Steelman, L. A., Wildman, J. L., LeNoble, C. A., & Zhou, Z. E. (2017). Guided mindfulness: A self-regulatory approach to experiential learning of complex skills. Theoretical issues in ergonomics science, 18(2), 147-166.
LeNoble, C. Peritz, J., Weber, E., Adaryukov, J., Dodson, C., & Svec, L. (2015). The application of multipurpose efficiently engineered tabling outcomes (MEETO) for improved networks. Naval Engineers Journal, 127(2), 101-104.
---
Memberships and Credentials
Society for Industrial-Organizational Psychology (SIOP)
Society for Occupational Health Psychology (SOHP)
Interdisciplinary Network for Group Research (INGRoup)
American Association for the Advancement of Science (AAAS)
---