Chetan Date
Title

Associate Professor of Aerospace Engineering

Email

Department

Aerospace Engineering Department

College

College of Engineering
Areas of Expertise
Mechanical Design/Analysis, Applied Mechanics, Fatigue and Fracture, Finite Element Stress Analysis, Applied Statistics, Probabilistic Methods, 
Six-Sigma, FAA- DoD Regulations, Nadcap, QA, Supply-chain Management
Business Management, P&L and financial management, Product Management, Marketing, Strategy, Decision Analysis
Systems Engineering Management - cross-disciplinary topics, human factors & professional ethics..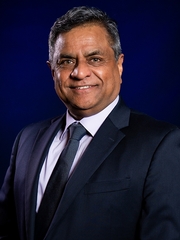 ---
External Links
---
Biography
Dr. Date is a retired aerospace executive with expertise in Structural Engineering & Mechanics, QA & Aerospace Regulatory Compliance, Six-Sigma, Product Management, and cross-discipline human factors.  He holds a Ph.D. in Structural Engineering and Executive MBA from Arizona State University and B.Tech. from IIT Kharagpur, India. He is a certified Six-Sigma Black Belt and is a registered Professional Engineer in the State of Arizona.  
Dr. Date retired as VP of Global Quality at ITT's Connect & Control Technology.  Before joining ITT, he held leadership positions at Honeywell Aerospace in Engineering, Regulatory Compliance, QA& Six-Sigma, and Marketing & Product Management functions.  During his long and diverse aerospace career, he managed multi-location global organizations and businesses; and traveled extensively around the world. 
Dr. Date actively participates in and has led various technical committees sponsored by the FAA and industry groups like AIA, IAQG, ASTM, and SAE International. He has published several technical papers and led global teams to write international standards. He was Chairman of SAE PRI-Nadcap Management Council and was on the Board of Directors of Southwest Alliance for Excellence, a 501C3 non-profit organization promoting quality in Arizona, Nevada, and Utah. He volunteers for Tau Beta Pi, the Engineering Honor Society.
He and his wife, Shobhna, live in Tempe, AZ.
---
Education
Ph.D. - Doctor of Philosophy in Civil Engineering, Arizona State University
M.S. - Master of Science in Engineering: Civil Engineering, Arizona State University
M.B.A. - Master of Business Administration in Business Administration, Arizona State University
---
---
Currently Teaching
UNIV 101: College Success
EC 225: Engineering Economics
EGR 101: Intro to Engineering
ES 201: Statics
SYS 304: Trade Stds Risk Decision Analy
---
Courses Taught
SYS415 Systems Engineering Practices: Specialty Engineering 
SYS304 Trade Studies, Risk and Decision Analysis
SYS301 Introduction to Systems Engineering
---
Professional Experience
​ITT - CONNECT & CONTROLS TECHNOLOGIES, Valencia, CA      2016 – 2020
Vice President, Global Quality, 
HONEYWELL AEROSPACE, Phoenix, AZ                                         1984- 2016
Director, Marketing and Product Management                                                                                                                      
Director, Quality Assurance                                                                                                                                                 
Engineering Manager, Principal Engineer                                                                                                                       
ARIZONA STATE UNIVERSITY, Tempe, AZ                                      1981 – 1985
Adjunct Faculty, Faculty Associate                                                                                                                                                   
---