Chunyan Yu
Title

Professor

Email

Department

Management, Marketing and Operations Department

College

College of Business
Areas of Expertise
Performance Measurement and Benchmarking of Transportation Infrastructures and operations, including airports, container ports, airlines, railways.
Impact studies of liberalizing transport regulation: regional, domestic and international
Demand Analysis and Forecasting
economics of transportation and logistics industries;
Transport infrastructure ownership forms, and pricing, cost recovery issues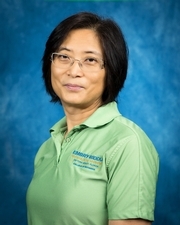 ---
External Links
---
Biography
Dr. Chunyan Yu is a professor of Air Transport Management.  Her expertise is in economics of transportation and logistics industries; performance measurement and benchmarking of transportation and supply chain infrastructure; regulatory policy analysis; demand analysis and forecasting; measurement and analysis of productivity and efficiency; applied statistics and econometrics. She has more than twenty five years experience in teaching, research, consulting on these areas in Canada, US, Asia, and Europe.
She has published numerous books and academic articles in international journals such as: Journal of Transport Economics and Policy, Transportation Research B, Journal of Air Transport Management, Journal of Business Research, Journal of Urban Economics, Transport Policy, European Journal of Operational Research, etc.  She has co-authored a number of research reports for government agencies and commissions in Canada, Asia, and Europe.
Yu is the research director for the Air Transport Research Society (ATRS)'s Global Airports Performance Benchmarking Task Force. The ATRS global airport benchmarking project measures and compares the performance of several important aspects of airport operation, covering over 200 airports in North America, Europe, Asia and Oceania, and publishes an annual report (www.atrsworld.org).  
---
Education
Ph.D. - Doctor of Philosophy in Business Administration: Transportation, University of British Columbia
M.S. - Master of Science in Business Administration, University of British Columbia
---
Courses Taught
BA 310  Airport Management
BA 327  Airline/Airport Operations
BA 645  Airport Operations and Management
BA 650  Airline/Airport Relations
BA 850 Research Seminar in Airport Management
BA 523 Advanced Aviation Economics
EC 420 Economics of Air Transportation
---
Professional Experience
2014 -       Professor, College of Business, Embry-Riddle Aeronautical University
2017:        Lady Davis Fellow, Hebrew University of Jerusalem, Israel
2017:        Visiting Professor, College of Business Administration, Inha University, S. Korea
2009-2014  Associate Professor, College of Business, Embry-Riddle Aeronautical University
2000- 2009 Instructor, Sauder School of Business, The University of British Columbia
---
Memberships and Credentials
Air Transport Research Society
World Conference on Transport Research Society
American Association of Airport Executives
Florida Airport Council
Topical Issues Editor, Transport Policy
---