Daryl Watkins
Title

Associate Professor, College of Business; Assistant Dean, Student Success & Communication

Email

Department

Department of Management and Technology

College

Worldwide College of Business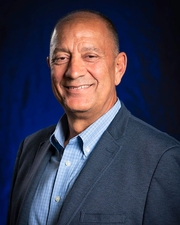 ---
Biography
Dr. Watkins is a tenured Associate Professor and serves as the Associate Dean of the College of Business. He is a Navy Combat Veteran with a background in aviation, transportation, and information technology. Dr. Watkins' expertise is in Organizational Leadership and Development. He developed many of the courses within the Master of Science in Leadership program. 
Dr. Watkins' primary research interest is complex adaptive leadership and critical thinking. He is currently the Principle Investigator on a grant for the Federal Aviation Administration exploring the efficacy of modular curriculum design in training and development within the Air Traffic Organization.
Dr. Watkins lives in Placentia, California. He and his wife, Dr. Nancy Watkins, have three teen-aged boys. Two of the boys are in high school and the eldest plays football at Cornell University in Ithaca, New York.
---
Education
D.Mgt. - Doctor of Management in Organizational Leadership,

University of Phoenix

M.B.A. - Master of Business Administration in Business Administration,

University of California - Irvine

B.S. - Bachelor of Science in History,

United States Naval Academy
---
Ratings and Certificates
---
Research Projects
---
Professional Experience
Dr. Watkins spent 13 years as a U.S. Naval Officer. He is a decorated combat veteran from Desert Storm and was an F/A 18 Hornet Fighter Pilot based off the aircraft carriers Midway and Independence. During his tenure in the World's Finest Navy, he created an award-winning aviation safety program that was recognized in the top 2 percent of the fleet.
After leaving the Navy, Dr. Watkins enjoyed a short career within the Transportation and Tolling Industry in the capacity of Operations Manager at the Transportation Corridor Agencies Toll Roads and General Manager of the Orange County Transportation Authority (OCTA) 91 Express Lanes. He also managed organizational change initiatives and a portfolio of information technology projects as a Project Management Consultant at OCTA. 
Dr. Watkins co-founded two high-tech start-ups – OC Networks and SourceNet Professionals in Technology.
---
Memberships and Credentials
Institute of Organization Development: Organization Development Certified Professional (ODCP)
American Grant Writer's Association: Certified Grant Writer
Project Management Institute: Project Management Professional (PMP)
Microsoft Certified Systems Engineer (MCSE)
Chapman University: Career in Transition Coach
---