David Thirtyacre
Title

Assistant Professor, College of Aviation; Chair, Department of Flight

Email

Department

Department of Flight

College

College of Aviation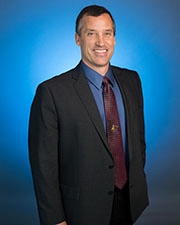 ---
Biography
David Thirtyacre has been an instructor with Embry-Riddle's Worldwide Campus for 10 years and is an Assistant Professor in the College of Aeronautics. David  leads the ERAU Worldwide Department of Flight and currently instructs at the undergraduate and graduate levels in Aerodynamics, Aircraft Performance, Unmanned Systems, Airborne Robotics, and Aviation and Aerospace Simulation Systems. 

---
Education
Ph.D. - Doctor of Philosophy in Aviation: Intradisciplinary,

Embry-Riddle Aeronautical University

M.A.S. - Master of Aeronautical Science in Aeronautics,

Embry-Riddle Aeronautical University

B.S. - Bachelor of Science in Mechanical Engineering,

Washington State University
---
---
---
Professional Experience
David recently retired from the USAF with 27 years of duty in the fighter community with over 3500 hours in fighter aircraft, and was a pioneer in the use of unmanned systems. The last 17 years of his career were spent at Nellis Air Force Base in Las Vegas, Nevada where he specialized as a pilot in operational test and the headquarters, USAF Warfare Center's, director of advanced programs.

He was the focal point for advanced program operational planning; combining the air, space and cyberspace domains with 5th generation aircraft, unmanned systems, national capabilities and other DoD assets.
David is a current multi-engine commercial pilot, certified flight instructor-instrument, and remote pilot.

---