Debra Bourdeau
Title

Associate Professor, College of Arts & Sciences; Associate Dean, Student Success and Academics; Interim Department Chair, Humanities & Communication

Email

Department

Department of Humanities & Communication

College

College of Arts & Sciences
Areas of Expertise
Interdisciplinary Humanities
STEM and Humanities
18th- and 19th-century British Literature and Culture
Digital Humanities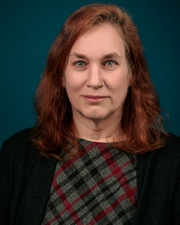 ---
External Links
---
Biography
Dr. Bourdeau is Associate Dean and Associate Professor in the College of Arts and Sciences. She previously served as Department Chair of Humanities and Communication and Director of Academics for Worldwide's Atlanta Campus. She has been with Embry-Riddle since 2000.
Dr. Bourdeau's areas of research specialization include 17th, 18th, 19th-century British literature and culture. She also has a strong interest in digital humanities. Dr. Bourdeau focuses on the intersection of visual art and written text as seen in artists/writers such as William Blake and William Hogarth. 
---
Education
Ph.D. - Doctor of Philosophy in English, University of Georgia
M.S. - Master of Science in Management: General Management, Embry-Riddle Aeronautical University
B.A. - Bachelor of Arts in English, Kennesaw State University
---
Currently Teaching
HUMN 333: Fiction Film PopCultr Rep Math
RSCH 395: Supervised STEM Rsch Ind Study
---
Courses Taught
ENGL 106: Introduction to Composition
ENGL 123: English Composition
ENGL 143: Studies in Rhetorical Theory
ENGL 221: Technical Report Writing
HUMN 142: Studies in Literature
HUMN 300: World Literature
HUMN 310: American Literature
HUMN 330: Values and Ethics
HUMN 333: How Fiction, Film, and Popular Culture Represent Science and Mathematics
RSCH 202: Introduction to Research Methods
SPCH 219: Speech
---
---
User Publications
Bourdeau, D. & Kraft, E, (Eds.). (2007). On second thought: Updating the eighteenth-century text. Delaware: University of Delaware Press.
Rister, A. & Bourdeau, D. (2021). Collaborative writing and presenting: A course template for teaching students how to collaborate on communication projects across all classroom modalities. Communication Teacher. https://doi.org/10.1080/17404622.2021.1889011
Bourdeau, D. & Wood, B. (2021, January) Humanistic STEM: From concept to course. Journal of Humanistic Mathematics 11(1), 32-52.
Bourdeau, D. & Wood, B. (2019). What is Humanistic STEM and why do we need it? Journal of Humanistic Mathematics, 9 (1), 205-216.
---
Memberships and Credentials
Member, American Society for Eighteenth-Century Studies
Member, Northeast Modern Language Association
Member, National Numeracy Network
Councilor, Arts and Humanities, Council on Undergraduate Research
---
Awards, Honors and Recognitions
Provost's Award for High-Performing Research Faculty (2019)