Denise Bollenback
Title

Assistant Professor, College of Business

Email

Department

Department of Management and Technology

College

College of Business
Areas of Expertise
Social Media Analytics

Business Analytics

Learning Analytics

Information Security

Strategic Planning

Business System Implementations

RFP and Business Requirements experience

Instructional Design

Quality and process improvement

Presentation and workshop experience

Workflow process design

Network engineer

Information Systems Project Management

Designing and developing reports

Database design and SQL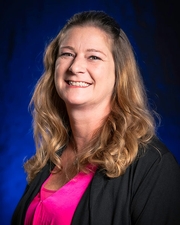 ---
Biography
Dr. Denise Bollenback is an Assistant Professor within the College of Business at Embry-Riddle Aeronautical University Worldwide Campus. She has developed and taught several courses, including IT Management, Strategy, and Governance, Business Intelligence and Data Analytics, and Business Analytics for Managers.

Denise completed her doctoral program in Instructional Technology and Distance Education (ITDE) at Nova Southeastern University. She also has a Master's in Information Systems and Bachelor's in Technical Management.

Prior to becoming an Assistant Professor and Assistant Program Chair at Embry-Riddle Aeronautical University, she was a Systems Analyst in the Learning Technology Services department. She was also a system administrator for the learning management system, a project manager for new learning technology implementations, and a faculty trainer, helping faculty build their courses and use various learning technology systems provided at Embry-Riddle. She is currently supporting the Microsoft Software and Systems Academy in recruiting, developing, and training faculty.

---
Education
Ed.D. - Doctor of Education in Education: Instructional Technology and Distance Education,

Nova Southeastern University

M. - Master in Information Systems Management: Data Administration and Management,

DeVry Institute of Technology-New York

B.S. - Bachelor of Science in Technical Management,

DeVry Institute of Technology-New York
---
---
Currently Teaching
BUAN 428

:

Busines Anyl & Data Intel

MMIS 320

:

Business Information Systems

MISA 394

:

Information Security Managemen

MMIS 221

:

Intro to Mgmt Info Systems
---
Courses Taught
CSCI 109, MGMT 221, MGMT 394, MGMT 422, MGMT 530

---
Professional Experience
ASSISTANT PROFESSOR, EMBRY-RIDDLE AERONAUTICAL UNIVERSITY

Professor and Course Developer/Monitor for Introduction to Management Information Systems, IT Management, Strategy, and Governance, Information Security Management

Implementation of Scholarly Commons (Bepress) – Digital Repository Project

Design and implementation of template for annual academic assessment and annual administrative strategic planning and assessment – Assessment Planning replacement tool

Trained student employee on the support of technology to support institutional effectiveness (Nomination for Student Employee of the Year)

Development and deployment of Multi-Modality templates in Blackboard for the College of Business (Ww)

Developed a framework to allow student learning data to be collected and analyzed throughout all campuses/locations/modalities

Support for accreditation processes. Developed a template to be used for the self-study report as well as providing analytical reports from various systems are currently using across the university to support accreditation processes

Attended the Aviation Accreditation Board International Conference (impromptu Presentation on program assessment), February 18-21, 2014

Presented Academic Assessment techniques at Prescott campus (All Faculty Sept. 2013)

Presented assessment techniques through technology at the College of Aviation (DB) faculty retreats – Fall 2013

Presented assessment techniques through technology at the College of Business (Ww) retreat – Fall 2013

Assisted in organization and presentation during the University Institutional Effectiveness Committee retreat – February 2014

Presented assessment techniques through technology at the Instructional Design and Development retreat (Ww) – February 2014

Presented An Analytics Approach to Academic Assessment (Educause Connect – May 2014)

Setup evidence assessment collections and preparations for attendance and participation at the annual Ignite Assessment Summit, Daytona Beach, FL,

DESIGN EXPERT, HALIFAX HEALTH

Executive Assistant to CEO and CFO

Built relational database to manage corporate contacts
Built relational database to manage and report capital equipment
Organized and managed board meetings and executive committees
Assist with creation of patient-centered general surgery program
Design continuous improvement processes to evaluate and make processes more efficient throughout various specialty areas, including Trauma and Intensive Care Units
Design patient flows and assist in development of new Hernia Institute
Design workflows and processes based on patient-centered care assessments

Create reports to show patterns and trends in care delivery based on analysis of data collected
Assist in Meditech and Logicare training activities
Continuously improve technology-based tools to promote and enhance patient-centered care
Report any changes in laws and regulations, especially with respect to healthcare reform back to team members to revise current processes

COMPUTER APPLICATIONS INSTRUCTOR/DUAL ENROLLMENT PROGRAM COORDINATOR/CIP PROGRAM COORDINATOR, PENINSULA COLLEGE

Taught hybrid courses with face-to-face instruction and lab hours to include an online component

Converted 13 lab courses/curricula into online courses using learning management system

Microsoft Office Master Instructor

Created and instructed multiple new course offerings to increase enrollment within targeted market niches

Develop curricula and syllabi

Update college website and databases

Administer Microsoft certification exams

Responsible for reporting to the State Board for Community and Technical Colleges as the program coordinator for the Continuous Improvement Program

Align outcomes/curricula within dual enrollment programs

---
Memberships and Credentials
USDLA (United States Distance Learning Association)
SoLAR (Society for Learning Analytics Research)
AECT (Association for Educational Communications and Technology)
AABI (Aviation Accreditation Board International)
ACBSP (Accreditation Council for Business Schools and Programs)
Educause
Council on Undergraduate Research
Gartner
Inside Higher Ed
Taskstream Knowledge Ambassador Group
Canvas Outcomes Committee

---
Awards, Honors and Recognitions
Microsoft Certified Professional

Microsoft Certified Instructor
Certified Online Instructor
EDUCAUSE Presenter
TitleEDUCAUSE Presenter
License CREDLY-124692
Certification DateMay 2014 – Present
Certification authorityEDUCAUSE