Douglas D Boyd
Title

Adjoint Faculty

Email

Department

Department of Graduate Studies

College

College of Aviation
Areas of Expertise
general aviation flight safety/accidents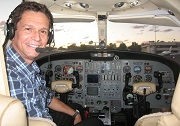 ---
Education
Ph.D. - Doctor of Philosophy in Surgery,

University of Edinburgh
---
---
Memberships and Credentials
Aerospace Medical Association (2009-present),

University Aviation Association (2016-present).
---
Awards, Honors and Recognitions
1) Fellow of the Aerospace Medical Association, 2020.
2) AsMA Associate Fellows Ellingson Award (Occupant Injury Severity in General Aviation Accidents Involving Excessive Landing Airspeed publication in AMHP journal), 2020 
3) Arnold D. Tuttle Award for paper most significant contribution (In-Flight Decision-Making by General Aviation Pilots Operating in Areas of Extreme Thunderstorms published in AMHP journal) in aerospace medicine, 2018. 
4) Associate Fellow of the Aerospace Medical Association 2018.
5) Joseph L Haley Writing Award given by the US Army Aviation Medical Association for the best paper published in 2016 in the area of Rotary wing Aviation Medicine, 2017.