Emily K. Faulconer
Assistant Professor, College of Arts & Sciences
Department of Mathematics,Physical & Life Sciences
Worldwide College of Arts & Sciences
Worldwide campus
Areas of Expertise
environmental chemistry, safety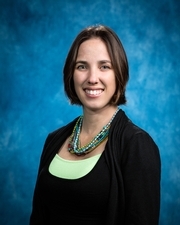 ---
Biography
Dr. Emily Faulconer serves as the Discipline Chair for the Physical & Life Sciences within the MPLS Department. She developed the Environmental Science minor and has been involved with multiple course redesigns. She typically teaches Chemistry, Environmental Science, and Introduction to Research. She is a certified Chemical Hygiene Officer and maintains her HAZWOPER and RCRA training.
She always knew science was her future. As a young learner in a small one-room school she would listen to the high school students' science lessons instead of doing her reading, giving herself extra homework each night. She went on to earn a B.S. in Forensic Science from Virginia Commonwealth University. After briefly working as a Forensic Chemist, she pursued her passion in education, first teaching high school and then pursuing a Ph.D. in order to teach at the college level. She has been with ERAU since 2012 and with the Worldwide Campus since 2016.
Dr. Faulconer is actively involved in service to the University, her discipline, and the community. She serves as the Chair of the Academic Safety Committee housed at the Daytona Beach campus. She is a member of the Journal of College Science Teaching Advisory Board and an Online Advisor for the National Science Teachers Association. She also participates in multiple volunteering activities in the community, including judging the state science fair, trail maintenance, and citizen science.
As a researcher, the goal of her research program is to leverage expertise in the scholarship of teaching and learning, scientific research, and safety in the translation of pedagogy and high impact activities into practice in online education, with emphasis on undergraduate research. Current projects explore faculty barriers to undergraduate research, safety culture, and contextualizing general education courses. She has multiple research publications.
Dr. Emily Faulconer is married to Michael Purcell. She enjoys time with her son and step-daughter. In her "spare time" she likes to be outside, whether she is on the mountain bike trails, out on her kayak, or simply working in the garden.
---
Education
Ph.D. - Doctor of Philosophy in Environmental Engineering Sciences,

University of Florida

B.S. - Bachelor of Science in Forensic Science,

Virginia Commonwealth University
---
Ratings and Certificates
---
---
---
Memberships and Credentials
National Science Teachers Association

American Chemical Society
---