Eric Hulphers
Assistant Professor, College of Business
Department of Management and Technology
Worldwide College of Business
Worldwide campus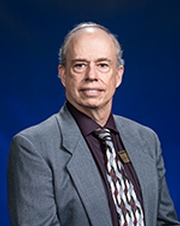 ---
Biography
Dr. Hulphers has been full-time faculty for Embry-Riddle Aeronautical University since 2006. He has been teaching graduate and undergraduate courses since 1988.
His career started in 1980 upon entering the U.S. Air Force as an Aircraft Armament Systems Specialist (bomb loader) and stationed at Hill AFB, UT. His first seven years of his 10-year Air Force career was spent at Hill AFB, then the last three years at Clark AB in the Republic of the Philippines as a NCO Leadership School instructor.
Separating from the USAF in 1991, Dr. Hulphers started worked in corporate training and development, college placement, and then university educational administration positions. Starting in the mid-1980s, he also worked part time in Emergency Medical Services until 1995, where he was employed full time in EMS for the State of Utah. His EMS experience also included work at various fire departments, ambulance services, a hospital trauma center, and teaching EMT and Paramedic courses. The combination of being a bomb loader and in EMS gives him a very twisted sense of humor, he said.
He has been a teacher first then started teaching statistics, unlike most statistics teachers who are statisticians first then go into teaching. His hobbies include scuba diving, golf, skate skiing, and is a competitive bicycle racer. The big annual racing event includes the 206-mile Logan-to-Jackson-Hole race (LOTOJA), which he has finished nine (9) times in a row, with a last time of 9 hours, 50 minutes.

---
Education
Ph.D. - Doctor of Philosophy in Health Promotion and Education,

University of Utah

M.S. - Master of Science in Human Resource Management,

Chapman University

B.S. - Bachelor of Science in Psychology,

Weber State University
---