Farahzad Behi
Title

Professor, Associate Chair, and Undergraduate Program Coordinator

Email

Department

Electrical Engineering and Computer Science Dept

College

College of Engineering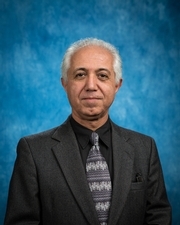 ---
Biography
Having more than twenty years of experience in industry and consulting, Professor Farahzad Behi currently serves as Associate Chair for the Department of Electrical, Computer, Software, and Systems Engineering. He has a BS in Civil Engineering and an MS in Computer Engineering. His work in the ECSSE department is divided between teaching and administration. Known by students and colleagues alike as someone who solves bureaucratic problems, Professor Behi says, "I enjoy being in the classroom and performing my duties as an administrator." He teaches introductory programming classes, microprocessor systems, and real-time systems, and his research interests are in engineering education, software processes, and real-time systems.
---
Education
M.S. - Master of Science in Engineering: Computer Engineering,

University of Central Florida
---
Currently Teaching
CECS 396

:

Coop Ed Computer Sci

CEEE 397

:

Coop Ed Elec Eng

CS 118

:

Fund of Computer Programming

CS 223

:

Scientific Programming in C
---
User Publications
Behi, F., Del Buono, M. (2010), "Vectorizing Compilers and Manual Code Optimization for Application Domains". Proceedings of WORLDCOMP'10  Foundations of Computer Science, Las Vegas, NV, July 2010.
Behi, F. (2008), "Modeling Real-World in Software: Coping with Coordinate Systems". Proceedings of WORLDCOMP'08  Computer Graphics & Virtual Reality, Las Vegas, NV, July 2008.
---
Professional Experience
ERAU; Associate Professor, August 1999-July 2010
Siemens Telecom Networks; Senior Software Engineer, November 1990 – March 1999
Continental Testing Laboratories; Test engineer, ATE programming Group Leader, February 1985 – November 1990
---
Memberships and Credentials
Association for Computing Machinery (ACM)
Institute of Electrical and Electronics Engineers (IEEE)
---
Awards, Honors and Recognitions
Faculty Appreciation Award, Embry Riddle Aeronautical University, College of Engineering, Fall of 2002.