Federica Robinson-Bryant
Assistant Professor, College of Aeronautics; Program Chair, Masters of Systems Engineering
Department of Engineering and Technology
Worldwide College of Aeronautics
Worldwide campus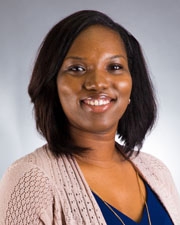 ---
Biography
Dr. Federica Robinson-Bryant (or "Dr. RoBry") has been a part of the Embry-Riddle organization since 2009, first serving the Daytona Beach campus as an adjunct instructor for the Freshman Engineering Department, since renamed and later as the Director of Outreach Programs. She actively participated in research and faculty development through the Center for Teaching & Learning Excellence while serving other academic organizations in various capacities throughout Central Florida. These organizations include Daytona State College, Valencia Community College and the University of Central Florida. Dr. RoBry has gained further experience working in a logistics-based capacity through a partnership with Lockheed Martin Missile and Fire Control and later as a Systems Engineer for the Department of Defense, Program Executive Office Simulation Training and Instrumentation. In the latter role she aided in the planning, organization, and achievement of engineering activities related to the design, development, installation, modification, sustainment, and analysis of systems of systems, systems and systems components for Army training aids, devices and simulations.

In the most general sense, Dr. RoBry's research agenda extends into the areas of:
System and Process Modeling and Optimization
Assessment
Operational Efficiency
Quality
Management
Education
STEM
Curriculum Development
In moments of free time, Dr. RoBry enjoys spending time with her family, traveling to new destinations, arts and crafts projects, event planning and planning for future moments of free time.
---
Education
Ph.D. - Doctor of Philosophy in Industrial Engineering,

University of Central Florida

M.S. - Master of Science in Industrial Engineering,

University of Central Florida

B.S. - Bachelor of Science in Industrial Engineering,

University of Central Florida
---
Ratings and Certificates
---
Memberships and Credentials
Dr. RoBry has been a member of the American Society of Quality, Institute of Industrial Engineers, National Society of Black Engineers, Professional and Organizational Network in Higher Education, Online Learning Consortium, American Society of Engineering Education and the Society of Women Engineers.
---
Awards, Honors and Recognitions
Dr. RoBry earned the Designation of McKnight Doctoral Fellow from the University of Central Florida, a Six Sigma Black Belt Professional Certification, Level 2 Department of Defense's Systems Planning, Research, Development, and Engineering (SPRDE) Certification and the Florida State Board of Engineers, Engineering Intern License.