Geoffrey Jensen
Title

Associate Professor of History

Email

Department

Global Security and Intelligence Studies Depart

College

Prescott College of Security & Intelligence
Office Hours
See posted schedule outside of my office for current office hours.
Areas of Expertise
War and Society, Race and the Military, Race and Politics, Cold War History, American Foreign Policy, Chinese History, History of the American War in Vietnam, and Southern American History.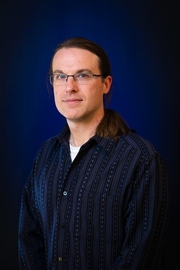 ---
Biography
I am a tenured Associate Professor of History in the College of Security and Intelligence at Embry-Riddle, Prescott, Arizona.  As a War and Society historian, my research focuses on the confluence of race, civil rights and liberal reform efforts in the American military during the twentieth century.  I edited The Routledge Handbook of the History of Race and the American Military (2016; paperback 2018), which is comprised of twenty articles exploring various aspects of race and the American military.  In that volume, I authored a chapter on Harry S. Truman and Executive Order 9981, which began the racial transformation of the American military during the Cold War. 

My most recent work, Beyond the Quagmire: New Interpretations of the Vietnam War (2019), is an edited volume that explores various subjects dealing with the war in Vietnam and includes, but is not limited to, race, the environment, the War on Poverty, memory, geography, politics, gender and the role of women in the war.  Within this study, I penned a chapter on the often-criticized Project 100,000, a program originally designed to aid the American poor through Cold War military service. 

On several occasions, I have presented my work during the Society for Military History's annual meeting.  Additionally, I have authored over a dozen book reviews for H-War (H-Net), The Journal of Military History, and The Strategy Bridge.  And lastly, I am a former West Point Summer Seminar Fellow, and my research has been generously supported by grants from Embry-Riddle, and the Lyndon B. Johnson and Harry S. Truman presidential libraries.

I am currently working on two different monographs.  The first is a manuscript reinterpreting the significance of the racial integration of the armed forces on the larger quest for civil rights during the Cold War.  The second is a work exploring the trials and tribulations of African American soldiers in the European Theater of World War II. 

---
Education
Ph.D. - Doctor of Philosophy in History,

University of Arkansas System (AR) : Fayetteville
---
Currently Teaching
SIS 100

:

Intro to Global Security

SS 340

:

Modern U.S. Foreign Policy

SS 120

:

U.S. History

SS 321

:

U.S. Milita Hist 1900-Present

SS 110

:

World History
---
Courses Taught
African American Military History, 1770 to Present
American Military History, 1900 to Present
American Presidents and War (seminar)
Research seminar (Graduate)
Strategic Intelligence: Diplomacy, Covert Operations, and War (Graduate Seminar)
The American War in Vietnam: 1945-1975 (Graduate Seminar)
The Cultural Cold War (seminar)
US-Asian Relations, 1850-2000 (seminar)
US Foreign Policy, 1890-Present
US History (I and II)
Western Civilizations (I and II)
World Civilizations (I and II)
World Civilizations II (Online)
World Civilizations II (Honors)
---
User Publications
Publications:
Books:
Beyond the Quagmire: New Interpretations of the Vietnam Conflict, co-editor and contributor.  Denton: University of North Texas Press, (2019)

The Routledge Handbook of the History of Race in the American Military, editor and contributor. New York: Routledge Press, 2016. (Paperback 2018)

The Racial Integration of the Armed Forces (Working Title)

Black Soldier: The African American Experience during World War II (Working Title)

Encyclopedia entries:
Entries in Alexander M. Bielakowski, Ethnic and Racial Minorities in the U.S. Military: An Encyclopedia (Santa Barbara, California: ABC-CLIO, 2013), 159-161: "Desegregation of the Department of Defense School System"; "Desegregation of the Veteran's Administration"
Book Reviews:
Chris Dixon, African Americans and the Pacific War, 1941-1945: Race, Nationality, and the Fight for Freedom.  New York: Cambridge University Press, 2018, The Journal of Military History (Spring 2019)
Jeremy P. Maxwell, Brotherhood in Combat: How African Americans Found Equality in Korea and Vietnam.  Norman, University of Oklahoma Press, 2018.  H-War, H-Net Reviews, https://networks.h-net.org/node/12840/reviews/3942346/jensen-maxwell-brotherhood-combat-how-african-americans-found, March 2019
Linda Hervieux, Forgotten: The Untold Story of D-Day's Black Heroes, at Home and at War. New York, Harper, 2015.  H-War, H-Net Reviews (2019)
Douglas W. Bristol & Heather M. Stur, Integrating the U.S. Military: Race, Gender, and Sexual Orientation Since World War II.  Baltimore, MD, John Hopkins University Press, 2017.  The Strategy Bridge, https://thestrategybridge.org/the-bridge/2018/10/4/the-tale-of-the-tail-that-wagged-the-dog-reviewing-integrating-the-us-military, October 2018
Judith L. Van Buskirk, Standing in Their Own Light: African American Patriots in the American Revolution.  Norman, University of Oklahoma Press, 2017. H-War, H-Net Reviews, http://www.h-net.org/reviews/showpdf.php?id=51497, February 2018
Scott McGaugh, Honor Before Glory.  Boston, Da Capo Press, 2016.  The Journal of Military History, Vol. 81, No. 4, October 2017
Douglas R. Egerton, Thunder at the Gates: The Black Civil War Regiments That Redeemed America. New York, Basic Books, 2016. H-War, H-Net Reviews, https://www.h-net.org/reviews/showpdf.php?id=48690, July 2017
Jennifer Mittelstadt, The Rise of the Military Welfare State. Cambridge, Harvard University Press, 2015. H-War, H-Net Reviews, http://www.h-net.org/reviews/showrev.php?id=46555, August 2016
Christine Knauer. Let Us Fight as Free Men: Black Soldiers and Civil Rights.  Philadelphia, University of Pennsylvania Press, 2014.  H-War, H-Net Reviews, https://www.h-net.org/reviews/showpdf.php?id=42375, November 2014
Kimberley L. Phillips.  War!  What Is It Good For? Black Freedom Struggles and the U.S. Military from World War I to Iraq.  Chapel Hill, The University of North Carolina Press, 2012. H-War, H-Net Reviews, http://www.h-net.org/reviews/showrev.php?id=35619, July 2012
David W. Blight, American Oracle: The Civil War in the Civil Rights Era, Cambridge, Belknap Press of Harvard University Press, 2011. H-War, H-Net Reviews, https://www.h-net.org/reviews/showpdf.php?id=34231, March, 2012
Chad Williams, Torchbearers of Democracy: African American Soldiers in the World War I Era, Chapel Hill, University of North Carolina Press, 2010.  Arkansas Historical Quarterly, Volume LXX, Number 3, Autumn 2011, pp. 343-345
R. Gregory Nokes, Massacred For Gold: The Chinese in Hells Canyon, Corvallis, Oregon State University Press, 2009. Pacific Northwest Quarterly, Volume 101, Number 3-4, Summer/Fall 2010, pp. 167-168
---
Professional Experience
Select Conference and Public Presentations
Chair, "The Citizen-Soldier", The Society for Military History Annual Meeting, 2019
Panelist, "War as a driving force of History. 19th and 20th Centuries."  The 14th Conference of the Spanish Association of Contemporary History, Alicante, Spain, 2018
Guest Speaker, "What is History?" Scholarly Speaking, Embry-Riddle Aeronautical University, Prescott, AZ, 2017
Presenter, "The Tragedy of the Triumvirate: Project 100,000 ", "Waging Peace" Conference, Dale Center for the Study of War and Society, The University of Southern Mississippi, 2016
Presenter, "'It is without question our shining opportunity': The Perplexing Perception of Project 100,000", The Society for Military History Annual Meeting, 2015
Presenter, "The War on Poverty meets the Vietnam Conflict: Project 100,000", Policy History Conference, 2014
Guest Speaker, "On the Prowl: The Black Panthers of the 761st and their Crusade in Europe", Faculty Research Presentation, Embry-Riddle Aeronautical University, Prescott, AZ, 2014. Available online at https://www.youtube.com/watch?v=MP0RFgwv3mY
Presenter, "Presidential Prerogative: A Comparison of Lincoln and Truman's Civil Rights Reforms in the Military", The Society for Military History Annual Meeting, 2013
Presenter, "Two Sides of the Same Coin: The Red Menace, Truman, Southern Segregationists, and the Desegregation of the Armed Forces", West Point Summer Seminar Fellow Presentation, 2012
Presenter, "Getting in the Way of the Action: Kennedy, the Cold War, and Civil Rights Reform in the Military", The Society for Military History Annual Meeting, 2011
Presenter, "Waging the War on Poverty: Project 100,000", Arkansas Association of College History Teachers Annual Meeting, 2010
Presenter, "Through the Specter of Communism: Truman, Southern Segregationists, and the Integration of the Armed Forces", Session: Segregation and Integration in the American Military, Missouri Valley Historical Conference, 2010  
---
Memberships and Credentials
Professional affiliations:
American Historical Association, 2012-Present
The Society for Military History, 2009-Present
---
Awards, Honors and Recognitions
Fellowships, Grants and Awards:
Embry-Riddle Aeronautical University, Faculty Development Fund Grant, 2016
Embry-Riddle Aeronautical University, College of Security and Intelligence Studies Researcher of the Year, 2015-16
Embry-Riddle Aeronautical University, Faculty Development Fund Grant, 2015
Embry-Riddle Aeronautical University, Faculty Development Fund Grant, 2013-2014
Embry-Riddle Aeronautical University, Internal Research Grant, 2013-2014
Embry-Riddle Aeronautical University, Student Government Association Faculty of the Semester, Fall 2013
West Point Summer Seminar Fellow, 2012
Harry S. Truman Library Institute, Research Grant, 2010
Lyndon B. Johnson Presidential Library, Moody Research Grant, 2008