Geoffrey Kain
Title

Professor and Director of the Honors Program

Email

Department

Humanities and Communication Department

College

College of Arts & Sciences
Office Hours
Honors Center----Mod 273, #100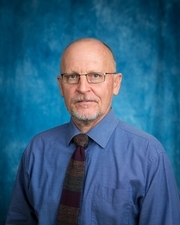 ---
External Links
---
Education
D.A. - Doctor of Arts in English, Idaho State University
---
Currently Teaching
HON 150: Honors Seminar I
---
Courses Taught
Honors Seminars I and II (2003-19). The interdisciplinary courses have involved material from a range of disciplines: literature, philosophy, history, history of science, art. Some examples of topics include "The Silk Road," "Human Migration," "South Asia: Promise and Perils," "Ironies of Control," "Colonialism and Globalization," "Chaos and Design."

Courses taught previously include World Literature, Post-Colonial Studies, International Studies, Studies in Literature, Studies in Humanities, Technology and Modern Civilization, Modern Literature, American Literature, Themes in the Humanities, Technical Writing, and Composition.
---
User Publications
----books, as contributing editor:

Ideas of Home: Literature of Asian Migration. Michigan State University Press,1997.


R.K. Narayan: Contemporary Critical Essays. Michigan State University Press, 1993.

Invited contributing Guest Editor, Humanities special issue, Further Explorations Along the Silk Road 7.68 (2018). MDPI open access journal. http://www.mdpi.com/journal/humanities/special_issues/Silk_Road?view=compact&listby=type 

Invited contributing Guest Editor, South Asian Review special topic issue: Satyajit Ray. 36.1 (Spring 2015).  250 pages.
----examples from among 28 academic articles:

"Aurel Stein and the Kiplings: Silk Road Pathways of Converging and Reciprocal Inspiration." Humanities 7.68 (2018): 1-15.

"Off-Grid Solar Powered Water Purification and Community Development in Haiti's Artibonite Valley, the Heart of Haiti's Cholera Epidemic."  IEEE Journal.  Co-authored with Hunt, Rachel, and Joseph Noto, Jonathan Prine, Calli Brown, and Dr. Marc Compere (corresponding author).  Fall 2017.
"Focusing the Village: Satyajit Ray's Pather Panchali and Prafulla Mohanti's My Village, My Life."   South Asian Review 36.1 (spring 2015): 177-96. 
"An Interview with Dilip Basu."  South Asian Review 36.1 (spring 2015): 19-36.
"Globalization and the Deepening India-U.S. Partnership in an Age of Entrenched Anti-Americanism." South Asian Review 28.2 (2007): 121-32.
"Tuning In (or Out) the BIG Voice of Arundhati Roy Following The God of Small Things." Journal of Commonwealth and Postcolonial Studies 12.1 (2005): 86-95.
"From Gunboats to Transgenic Seed: The Western Quest for Tools of Enforced Dependency." South Asian Review, special topic issue "Globalization and Diaspora," 24.1 (2003): 48-62.
"The Vital Role of 'Other' Literatures in American Technological Curricula." Humanities & Technology Review, fall 1998. 40-58.
"Global Village, or Gated Communities? (Hyper)media Mergers and Literary/Cultural Contentions." The Critical Endeavour (Cuttack,India), October 1997. Paper presented at the Indian Association for Commonwealth Language and Literature Studies annual national convention, Hyderabad, India, January 1997. 1-16.

book chapters and introductions:

"R.K.Narayan." 45 page biographical and critical chapter, with separate summaries of the author's 14 novels, and an additional bibliography of primary and secondary material. A Companion to Indian Fiction in English, ed. PierPaolo Pucciocu (Turin University, Italy). New Delhi, India: Atlantic Books, 2003.

"Rupture as Continuity: 'Unsettled Perspective' in Bapsi Sidhwa's An American Brat." Chapter in Asian American Literature in the International Context.
Ed. Samuel Ludwig and Rocio Davis. Literatur Verlag, 2001. 237-47.

"Foreword" to The Indian Novel in English: Its Birth and Development, by Subhendu Kumar Mund (New Delhi: Parachi Prakashan, 1997).


----Encyclopedia entries:

"Prafulla Mohanti" and "Khushwant Singh." Entries in Encyclopedia of Postcolonialism. Ed. John C. Hawley. NY: Greenwood Press, 2001.
"Himani Bannerji." Entry in Asian American Novelists. Ed. Emmanuel Nelson.
New York: Greenwood Press, 2000.

----other publications include reviews, short fiction, travel essay, and poetry.
---
Professional Experience
Fuzhou University, China, 1984-85
Idaho State University, 1985-86
Xiamen University, China, 1986-88
University of Wisconsin-Marinette, 1988-89
Embry-Riddle, Daytona Beach 1989-present
---
Memberships and Credentials
National Endowment for the Humanities Summer Institute, University of London, summer 1998. "Postcolonial Studies."


Director of the Honors Program, 2003-present. For information on Honors at ERAU, see https://ernie.erau.edu/Departments/honors-program-daytona/Pages/Default.aspx 
---