Hadi Ali
Title

Assistant Professor of Aerospace Engineering

Email

Department

Aerospace Engineering Department

College

College of Engineering
Areas of Expertise
Innovation ecosystems

University design and performance

Data, systems and society

Space robotics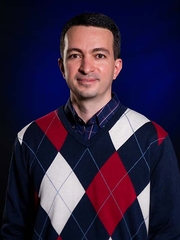 ---
External Links
---
Biography
Ali studies the influence of the future of work on curricular innovation, with a focus on exploring the relationships between and among adaptability, risk taking and value making. In an effort to characterize engineering education as an (eco)system, Ali's approach integrates analytical methods of data science to address changes in systems and society. More broadly, Ali is interested in examining how engineering innovations mobilize social and economic change.

Ali recalls watching an episode from the mini series From the Earth to the Moon. It was about designing the Apollo Lunar Module (LM)—the vehicle that landed humans on the Moon. He decided to explore the development of the LM in his graduate studies. During his studies, he felt the urgent need to develop new research skills to study human-systems interactions as a social phenomenon where "the technical" plays a major role.

When plans of the human space program went under review in 2009, Ali observed the work of the Review Committee and its Chairman, Norman Augustine. It was clear to him that more important than addressing the "how" of the program was addressing the "why." He had the chance to meet with Norm. eventually. Norm encouraged Ali to think of engineering education as a system. 

Ali's journey allowed him to develop a cross-disciplinary background. He enjoys working on—and spanning —the boundaries between diverse domains of knowledge: technical and non-technical. At the same time, he values the fundamentals; Ali sees no substitute, in the rapid development of technology, to mastering the basics. The common thread that runs through all his work is a deep passion to study, research and design the engineering mobilization of social and economic change—overcoming another form of gravitational force.
In his PhD work, Ali explored the relationship between context and adaptability in curricular change. Ali has graduate degrees in Aeronautics and Astronautics (space systems design, and astrodynamics), Electrical and Computer Engineering (artificial intelligence, fields and optics) and Engineering Education (design cognition and human communication inquiry) all from Purdue University. He completed the Applied Management Principles program (mini-MBA) at the Krannert School of Management at Purdue. He also has an undergraduate degree in Aeronautics and Astronautics (propulsion) from Purdue and an undergraduate degree in Mechanical Engineering (design) from the University of Jordan.
Ali taught courses in use-inspired design at ASU and in transforming ideas to innovations at Purdue. Prior to that, Ali worked at the University of Jordan as a facilitator for curricular change and as a design content instructor at the Department of Mechatronics. He was on the management team of the Amman Design Week in its inaugural year in Jordan, launched by Queen Rania--a pioneering platform that harnessed creativity, revived the conversation about design, and instilled a spirit of collaboration and exchange.

Ali enjoys Arabic calligraphy, beautiful sounds, stargazing, birdwatching, and cooking! He has been practicing Karate for eleven years now. Ali is grateful for the experiences he has had and the great people he has met. He looks forward to meeting and working with extraordinary people.
---
Education
Ph.D. - Doctor of Philosophy in Engineering Education Systems and Design, Arizona State University
M.S. - Master of Science in Engineering Education, Purdue University-Main Campus
M.S. - Master of Science in Engineering: Electrical and Computer Engineering, Purdue University-Main Campus
M.S. - Master of Science in Aeronautics and Astronautics, Purdue University-Main Campus
B.S. - Bachelor of Science in Aerospace and Astronautical Engineering, Purdue University-Main Campus
---