Hillary Eaton
Title

Associate Professor of Biology

Email

Department

Biology and Chemistry Dept

College

College of Arts & Sciences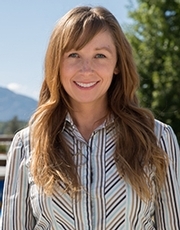 ---
Biography
Dr. Eaton is the Program Chair of Forensic Biology. She earned a Ph.D. from Oregon State University and has enjoyed a career as a research microbiologist in both academia and government agencies. She has over a decade of experience working in pathology, toxicology and veterinary medicine, in addition to supporting the military through research focused in bioremediation, antimicrobial resistance, environmental and microbial forensics. Her research interests are in environmental, microbial and wildlife forensics.

---
Education
Ph.D. - Doctor of Philosophy in Microbiology,

Oregon State University

B.S. - Bachelor of Science in Agriculture: Veterinary Science and Biochemistry,

University of Arizona
---
Currently Teaching
CEFB 396

:

COOP Ed - Forensics Biology

BIO 215

:

Genetics

BIO 215L

:

Genetics Laboratory

BIO 302

:

Instrum Analys & Trace Evidenc

BIO 405

:

Molecular & Cell Biology

BIO 405L

:

Molecular & Cell Biology Lab
---
User Publications
Fuller, M.E., Hatzinger, P.B., Condee, C.W., Andaya, C., Vainberg, S., Michalsen, M.M., Crocker, F.H., Indest, K.J., Jung, C.M., Eaton, H.L., and Istok, J.D. (2015). Laboratory evaluation of bioaugmentation for aerobic treatment of RDX in groundwater. Biodegradation. 26 (1): 77-89.

Indest, K.I., Eaton, H.L., Jung, C.J., Lounds, C.B. (2014). Biotransformation of explosives by Reticulitermes flavipes associated termite endosymbionts. Journal of Molecular Microbiology and Biotechnology. 24: 114-119.

Eaton H.L., Murty, L.D., Duringer, J.M., Craig, A.M. (2013). Ruminal bioremediation of the high energy explosive HMX by sheep microorganisms. FEMS Microbiology Letters. 350 (2014): 34-41.

Eaton H.L., Duringer, J.M., Murty, L.D., Craig, A.M. (2013). Anaerobic bioremediation of RDX by ovine whole rumen fluid and pure culture isolates. Applied Microbiology and Biotechnology. 97(8): 3699-3710.

Eaton, H.L., De Lorme, M., Chaney, R.L., Craig, A.M. (2011). Ovine Ruminal Microbes Are Capable of Biotransforming Hexahydro-1,3,5-trinitro-1,3,5-triazine (RDX). Microbial Ecology. 62:274-286.

Eaton, H.L. (2011). Anaerobic biodegradation of the cyclic nitramines, RDX and HMX, by ovine ruminal microbes. Dissertation, Oregon State University.
---
Memberships and Credentials
American Society of Microbiology
American Academy of Forensic Sciences
American Chemical Society
Council on Undergraduate Research
---
Awards, Honors and Recognitions
ERAU Researcher of the Year (2018-2019)  for the College of Arts & Sciences and the Prescott Campus