Houbing Song
Assistant Professor of Electrical Engineering and Computer Science
Electrical, Computer, Software & Systems Engr Dept
Daytona College of Engineering
Daytona Beach campus
Office Hours
TU: 3-5 PM
Areas of Expertise
Cyber-Physical Systems, Cybersecurity and Privacy, Communications and Networking,
Unmanned Aircraft Systems, Assured Autonomy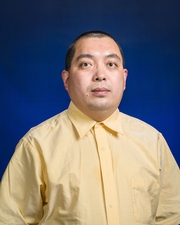 ---
Biography
Houbing Song received the Ph.D. degree in electrical engineering from the University of Virginia, Charlottesville, VA, in August 2012.
In August 2017, he joined the Department of Electrical, Computer, Software, and Systems Engineering, Embry-Riddle Aeronautical University, Daytona Beach, FL, where he is currently an Assistant Professor and the Director of the Security and Optimization for Networked Globe Laboratory (SONG Lab, www.SONGLab.us). He served on the faculty of West Virginia University from August 2012 to August 2017. In 2007 he was an Engineering Research Associate with the Texas A&M Transportation Institute. He serves as an Associate Technical Editor for IEEE Communications Magazine. He is the editor of four books, including Smart Cities: Foundations, Principles and Applications, Hoboken, NJ: Wiley, 2017, Security and Privacy in Cyber-Physical Systems: Foundations, Principles and Applications, Chichester, UK: Wiley-IEEE Press, 2017, Cyber-Physical Systems: Foundations, Principles and Applications, Boston, MA: Academic Press, 2016, and Industrial Internet of Things: Cybermanufacturing Systems, Cham, Switzerland: Springer, 2016. He is the author of more than 100 articles. His research interests include cyber-physical systems, internet of things, cybersecurity and privacy, edge computing, big data analytics, and wireless communications and networking. His research has been featured by popular news media outlets, including USA Today, U.S. News & World Report, Fox News, Forbes, WFTV, and New Atlas.
Dr. Song is a senior member of IEEE and ACM. Dr. Song received the Best Paper Award from 12th IEEE International Conference on Cyber, Physical and Social Computing (CPSCom-2019) and 19th IEEE/AIAA Integrated Communication, Navigation and Surveillance technologies Conference (ICNS 2019). Dr. Song was the very first recipient of the Golden Bear Scholar Award, the highest faculty research award at West Virginia University Institute of Technology (WVU Tech), in 2016.
Under a licensing agreement, Drone Defense Systems LLC and Embry-Riddle will commercialize new technology that detects and safely neutralizes rogue drones without destroying them or causing them to crash. An Embry-Riddle news release generated a large volume of media coverage. Examples of that pickup included New Atlas, Yahoo! Finance, USA Today Online, Unmanned Aerial, mydeardrone.com, Finanzen, Pilot News Online, Oklahoman Online, Arizona Republic Online, UAS Weekly, Seattle Post-Intelligencer Online, San Antonio Express Online, SFGate, Erie News Now, KAKE TV, WSIL TV, KLBB TV, Fox 21 Delmarva, WVIR TV, WFMJ TV, and many others. The story generated at least 80 media mentions, reaching a total potential audience of 16M.
---
Education
Ph.D. - Doctor of Philosophy in Electrical Engineering, University of Virginia
M.S. - Master of Science in Civil Engineering, University of Texas System : El Paso
---
Currently Teaching
CEC 460: Telecommunications Systems
MMSE 700: Thesis
CS 690: Cybersecur Eng Capstone Proj
CS 700: Graduate Thesis
CS 800: Dissertation
CS 595B: Cyber-Physical Systems
---
Publications
​​https://scholar.google.com/citations?user=iJ_XxxoAAAAJ&hl=en
---
Memberships and Credentials
Senior Member, IEEE
Senior Member, ACM
---
Awards, Honors and Recognitions
Best Paper Award, 12th IEEE International Conference on Cyber, Physical and Social Computing (CPSCom-2019)
Best Paper Award, 19th IEEE/AIAA Integrated Communication, Navigation and Surveillance technologies Conference (ICNS 2019)-Cybersecurity Track
​Golden Bear Scholar Award, West Virginia University, 2016