Jeffrey Jorgensen
Title

Assistant Professor of the Practice, College of Aeronautics

Email

Department

Department of Undergraduate Studies

College

Worldwide College of Aeronautics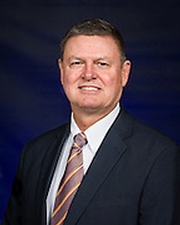 ---
Biography
Jorgensen is certified to teach the following ERAU Worldwide courses: ASCI 202, ASCI 254, ASCI 401, ASCI 602, ASCI 645, ASCI 645, MGMT 408, and MGMT 415.
A United States Air Force career officer (retired), Jorgensen has more than 2,800 hours of experience navigating the C-130 (Clark Air Base, Philippines), C-141 Special Operations (Charleston AFB, SC), C-5 Special Operations (Dover AFB, DE), and T-43A (United States Air Force Academy).
His three-year tour at the Academy included extensive classroom aviation instruction and duties as his squadron's Academic Flight Commander. As Flight Commander, his responsibilities included ensuring curriculum and instructional quality for all Academy aviation courses, as well as overseeing new course development. He supervised more than 60 Academy faculty in his Flight Commander role. Other significant positions Jorgensen held during his Air Force career include Operations Officer of an Air Mobility Squadron (Hickam AFB, HI), and Transportation Officer/Chief of Special Operations (United States Transportation Command, Scott AFB, IL).
Before joining ERAU as Director of Academics (DA) at Worldwide's Las Vegas Campus, Jorgensen gained two years of airline management experience working for United Airlines in Operations Management at several of the airline's hub airports and a major line station: O'Hare International Airport (Chicago, IL), Los Angeles (CA) International Airport, San Francisco (CA) International Airport, and McCarran International Airport (Las Vegas, NV).
Jorgensen has experience as a DA Senator on the University's Worldwide Faculty Senate. He holds an FAA Commercial Multi-Engine Pilot Certificate with an Instrument Rating. With more than 30 years of civilian flying, Jorgensen is working toward multiple FAA Certified Flight Instructor ratings.
Interests: In addition to spending time with his two beagles (siblings Betsy and Brian), Jorgensen enjoys flying, national and international travel, hiking, camping, snowboarding, water skiing, and just getting out on the highway and driving somewhere to explore.
---
Education
M.A.S. - Master of Aeronautical Science in Aeronautical Science,

Embry-Riddle Aeronautical University

B.S. - Bachelor of Science in Industrial Technology (air Trans Management),

Arizona State University
---
Ratings and Certificates
---
Currently Teaching
ASCI 645

:

Airport Operations & Mgmt

ASCI 254

:

Aviation Legislation

ASCI 202

:

Intro to Aeronautical Science
---