Jennifer O'Bryon
Assistant Professor of the Practice, College of Business
Department of Business Administration
Worldwide College of Business
Worldwide campus
Office Hours
Anytime by appointment
Areas of Expertise
Doctorate of Business Administration (ABD) Northcentral University
PhD Business Administration (attending) Capella University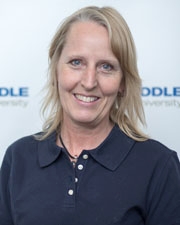 ---
Biography
Jennifer O'Bryon has worked in the Aviation Industry for over 30 years. She served 4 years in the Air Force, provided airport consultant services for the Mid-America/Scott AFB Joint Use project, worked in state government as an airport planner, policy analyst, airport manager, and airport project manager. She was also the Deputy Director at the Portland International Jetport and a Senior Airport Planner in Anchorage, Alaska. She has taught several aviation business administration courses and provided assistance in curriculum and course development, as well as academic program assessments.
She holds her private pilots license (fixed and rotor wing) and has worked with many computer software programs. She continues to explore new technologies and managerial methods applicable to the aviation industry. She completed All but the Dissertation (ABD) in Northcentral University's Doctorate of Business Administration program and 40% of the coursework in the Capella University Ph.D. of Business Administration program.
Jennifer O'Bryon has provided aviation leadership throughout her career, in formal positions and as part of a team. Her communication and interpersonal skills enhance her abilities to identify the root of current industry problems and provide analytical research to support practical solutions. She values integrity, cooperation, work ethics, and respect as part of her core belief system. She approaches everything she does with authenticity and understanding and has enjoyed a fulfilling career.

Jennifer O'Bryon intentionally developed her career path and has successfully adapted to new fields within the aviation industry. Her curiosity and passion for understanding the people and environment around her has prepared her to succeed in finding new opportunities and acquiring new technological skills currently needed.
---
Education
M.A.S. - Master of Aeronautical Science in Aeronautical Science (Specialization: Av Aerospace Operations), Embry-Riddle Aeronautical University
B.S. - Bachelor of Science in Aeronautical Studies, Embry-Riddle Aeronautical University
---
Ratings and Certificates
---
Currently Teaching
MGMT 408: Airport Management
BSAB 418: Airport Administration&Finance
BSAB 426: International Aviation Mgmt
---
Courses Taught
ASCI 401 - Airport Operations and Development
ASCI 645 - Airport Management
MGMT 408 - Airport Management
MGMT 412 - Airport Planning and Design
BSAB 418 - Airport Administration and Finance
MGMT 415 - Airline Management
MGMT 419 - Aviation Maintenance Management
BSAB 425 - Trends and Current Problems in Aviation
BSAB 426 - International Aviation Management
---
Professional Experience
ERAU-WW - Program Chair, Associate/Bachelor of Science in Aviation Business Administration (2011 - present)
Daniel Webster College - Instructor (2012 - 2013)
University of Alaska - Instructor (2012)
Alaska Department of Transportation - Airport Leasing Specialist (2011 - 2012)
DOWL-HKM Aviation Consultants - Senior Airport Planner (2011)
Portland International Jetport - Deputy Airport Director (2008 - 2011)
Maine Department of Transportation - Aviation Policy Analyst/Aviation Planning Specialist (1997 - 2008)
Augusta State Airport - Airport Manager (2005 - 2006)
City of Boise, Boise International Airport - Airport Operation Specialist (1196 - 1997)
Sverdrup Aviation - Airport Operations Planner (1993 - 1996)
National Business Systems - Graphic Artist (1991 - 1993)
United States Air Force - Nuclear Weapons Technician (1986 - 1990)
Asheville High School, North Carolina - High school diploma (1982)
Maine Department of Transportation Office of State Training & Organizational Development:
The Power of Professionalism - May 2008
Leadership Communication - May 2008
Leadership Development Training - June 2007
Conflict through MBTI Lens- April 2007
Leadership Lessons Learned from Katrina - November 2006
Introduction to the Legislative Process - October 2006
Maine Leadership Institute - September 2006
Ethics and Moral Courage in Public Administration - November 2005
Communicating with Confidence - May 2005
Organizational Development - Related Methods - March 2005
Organizational Development - Organizational Improvement - January 2005
Effective Meetings - October 2004
The Art of Teamwork - October 2004
Dealing with Difficult Customers - September 2004
Effective Communication - August 2004
American Association of Airport Executives:
Airport Security Coordinator Training School - November 2007
Department i Homeland Security:
Maine Emergency Transportation Seminar - November 2003
---