Jerry Krantz
Title

Assistant Professor of the Practice, College of Arts and Sciences

Email

Department

Department of STEM Education

College

Worldwide College of Arts & Sciences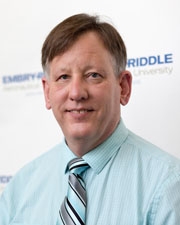 ---
Biography
Mr. Krantz is an assistant professor of mathematics and statistics in the College of Arts & Sciences. He has been with Worldwide since 2005 and also worked as director of academics at Worldwide's Houston Campus.
Mr. Krantz can often be found reading books and materials related to mathematics, computer science and computer programming. He also enjoys reading science fiction and listening to music on his iPod. 
---
Education
M.A.S. - Master of Aeronautical Science in Aviation Aerospace Management,

Embry Riddle Aeronautical University

M.S. - Master of Science in Statistics,

Stephen F Austin State University

B.S. - Bachelor of Science in Mathematics: Statistics,

Stephen F Austin State University
---
Professional Experience
Working for 14 years in the aerospace industry, Mr. Krantz supported projects related to Earth observations, space shuttle support and software development at Houston's Johnson Space Center. His roles included statistician, programmer and engineer. Mr. Krantz was an adjunct instructor of Mathematics at San Jacinto College and Lee College. He also served as the department chair for Computer Information Systems at San Jacinto College's North Campus. Additionally, he spent five years teaching programming classes to internal and external customers at a major software company in Houston. 
---