John French
Title

Professor of Human Factors and Systems

Email

Department

Human Factors and Behavioral Neurobiology

College

Daytona College of Arts & Sciences
Areas of Expertise
Fatigue management, Motion Sickness medications, mTBI diagnosis and treatment, Color vision deficiency, sleep apnea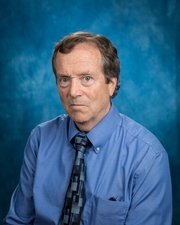 ---
Biography
Dr French is a Professor of Human Factors and Aerospace Physiology at Embry Riddle Aeronautical University and the Research Director.  He has over 100 publications in the area of human performance enhancement, sleep deprivation and stress countermeasures.  
He received postdoctoral training in the Laboratory of Cerebral Metabolism at Cornell University Medical College.  He was the director of the pre-clinical EEG screen for Parke Davis Pharmaceutical Company and a research associate in the Department of Pharmacology at the University of Michigan.  Dr French served as a senior Aerospace Physiologist with the US Air Force Research Laboratory at Brooks AFB and participated in sustained operations and acceleration research.  Dr French won many honors while with the Air Force including the Dan Berkant award and the DoD Civilian Recognition Medal for work in a combat zone during Gulf War I.   He worked in the human performance and software simulation industry for Micro Analysis and Design before coming to Embry-Riddle University.  He has been with ERAU for the past 12 years and teaches classes in Physiology, Psychobiology, Neuroscience, Perception and Pharmacology.  He was recognized for his teaching and research at ERAU by the Presidential citation award in 2011 and 2012.    His current research interests at ERAU concern motion and simulator sickness, sleep improvement and developing biomathematical models of fatigue.
---
Education
Ph.D. - Doctor of Philosophy in Psychology,

Colorado State University

M.S. - Master of Science in Psychology,

Colorado State University

B.S. - Bachelor of Science in Psychology,

Colorado State University
---
Currently Teaching
HF 440

:

Aerospace Physiology

PSY 335

:

Physiological Psychology

HF 321

:

Psychopharmacology

PSY 310

:

Sensation & Perception

HFS 615

:

Sensation & Perception
---
Research Projects
---
Publications
---
McGrath, B., Mortimer, B., Drakunov, S. and French, J. (2016)Mathematical model of spatial orientation, presentation at the annual AIAA symposium
 Olivero, J., Berhane, B., French, J. and Reynolds, A. (2013) A study of the effects of radiation in low earth orbit (LEO) on humans and safety critical systems,  FAA – OTA DTFAWA-11-A-00002, Amendment 3, Office of Commercial Space Transportation. 
 Dean, J., D'Agostino and French, J. (2012) Hypoxia and hypobaria at altitude < 20,000 feet, In Threshold Limit Values for Chemical Substances and Physical Agents & Biological Exposure Indices (TLVs and BEIs), American Council of Governmental Industrial Hygenists (ACGIH).
Skinner,N.P, Radetsky, L., Narendran, N., French, J., Greenfield, H., Gallagher, D. and Bassey, R., (2011) Optimizing the Performance of Elevated Runway Guard Lights with LEDs, Proceedings of the Illuminating Engineering Society Aviation Lighting Committee Wilmington, NC October 16-20, 2011
 French, J. and  Neville, K.J..  Avoiding the impact of fatigue on human effectiveness,  in Paula A. Desmond, Gerry Matthews and Peter A. Hancock (Eds),  Handbook of Operator Fatigue, Ashgate, 2011, 8, 4. 
 Eddy, D.R., Storm, W.F., Gibbons, J.A., Miller, J.C., French, J. and Wesensten, N. (2009) Reversal of Zolpidem intoxication by sublingual Flumazenil, US Air Force Research Laboratory Technical Report AFRL-RH-BR-TR-2009-0026. 
 McBride, M., Hodges, M. and French, J.  Speech intelligibility differences in male and female vocal signals transmitted through bone conduction in background noise: Implications for voice communication headset design.   International Journal of Industrial Ergonomics, 2008, 11-12, Nov-Dec : 1038-1044
---
Memberships and Credentials
Aerospace Medical Association

Aerospace Physiology Society (Secretary)
Society for Neurosciences
---