Joseph Cerreta
Title

Associate Professor, College of Aviation; Chief, Standardization and Training

Email

Department

Department of Flight

College

College of Aviation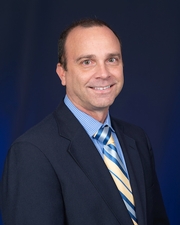 ---
Biography
Dr. Joseph Cerreta is an Assistant Professor at Embry-Riddle Aeronautical University - Worldwide. He has 25 years of UAS experience as an instructor, manager, and director with UAS programs for the Department of Defense, Public Safety, and Academia.
Dr. Cerreta developed a UAS emergency management response capability with the Oklahoma Department of Emergency Management, which also resulted in the National Weather Service's use of UAS live-stream data specifically for tornado damage assessment for the first time in NWS history. He also co-developed a UAS for Public Safety integration program to stand up newly formed UAS aviation units in public safety entities, including the Daytona Beach Police Department.
Joseph's research includes comparing 2D to 3D plant health vegetation indices, collected from UAS, using point clouds. The goal of this research is to understand if 3D methods of measuring vegetation health in vertically-arranged plants, such as citrus trees, can augment existing plant health indications.
Joseph served in positions ranging from Standardization Operator and Master Instructor, while the chief instructor at the Army's UAS training schoolhouse. His experience included work on the RQ-5A Hunter, RQ-7A/B Shadow 200 and Aerosonde Mk 4.7G. He designed and managed UAS training programs of instruction, including the development and implementation of the Army's transition for initial qualification training from the Hunter UAS to the Shadow. He also developed the qualification transition course for the USMC from their Pioneer UAS to Shadow. Joseph co- authored the US Army Training Circular 1-600, UAS Aircrew Training Manual (2nd Ed.).
Dr. Cerreta was the Program Manager responsible for UAS lifecycle sustainment, deployed manpower planning, and resource allocations for the Aerosonde Mk 4.7G Contractor-Owned Contractor Operated and Shadow 200 Government Owned Contractor Operated teams, Enhanced Platoon Augmentation teams, and New Equipment Training programs. His programs provided tactical-level UAS operations deployed in multiple UAS operational sites in Iraq and Afghanistan, averaging more than 4,600 flight hours per month, while sustaining operational readiness rates of over 95%.
His past education and experience includes a Ph.D. in Business Administration from Northcentral University (2012), he authored Exploring Performance Based Logistics Predictors of Earned Value Management Outcomes.
---
Education
Ph.D. - Doctor of Philosophy in Business Administration,

Northcentral University

M.A.S. - Master of Aeronautical Science in Aviation Aerospace Safety Systems,

Embry-Riddle Aeronautical University

B.A. - Bachelor of Arts in Liberal Arts,

Excelsior College
---
---