Jules O Yimga
Assistant Professor of Business
School of Business
Prescott College of Arts & Sciences
Prescott campus
Office Hours
T, TH 10:00a. - 12:00p. and 1:00p. - 4:00p.
Areas of Expertise
Industrial Organization (IO)
Air Transportation
Financial Economics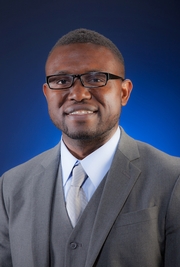 ---
Biography
Jules Yimga joins Embry-Riddle Aeronautical University as an Assistant Professor in the School of Business in the College of Arts and Sciences. Jules received his Ph.D in Economics from Kansas State University, his M.Sc. in Business Administration (MBA) from Alabama A&M University and B.Sc. in Banking and Finance from the University of Buea in Cameroon.
His primary research interests are in the field of Industrial Organization (IO) and specifically focuses on empirical methods applied to the airline industry and Financial Economics. His current research examines how airlines and passengers respond to changes in airline product quality. In Financial Economics, his research investigates the productivity and efficiency of microfinance institutions (MFIs) during periods of uncontrolled microfinance expansion.
---
Education
Ph.D. - Doctor of Philosophy in Economics, Kansas State University
M.B.A. - Master of Business Administration in Business Mgt & Administration, Alabama A&M University
---
Currently Teaching
EC 200: An Economic Survey
EC 211: Macroeconomics
---
Courses Taught
EC211: Macroeconomics
EC225: Engineering Economics
EC315: Managerial Economics
BA430: International Trade and Regulations
---
Publications
Yimga, J. (2018) "Microfinance Expansion and its Effects on Cost Efficiency" In Press. The Quarterly Review of Economics and Finance. https://doi.org/10.1016/j.qref.2018.03.006
Gayle, P. and Yimga, J. (2018) "How much do Consumers really Value Air travel On-time Performance, and to what Extent are Airlines Motivated to Improve their On-time Performance?" In Press. Economics of Transportation. https://doi.org/10.1016/j.ecotra.2018.01.003

Paper selected for press release by the Transportation Research Forum. https://trforum.org/6581-2-3

Yimga, J. (2017) "Airline On-Time Performance and its Effects on Consumer Choice Behavior," Research in Transportation Economics, 66, 12-25. https://doi.org/10.1016/j.retrec.2017.06.001
Yimga, J. (2017) "Airline Code-sharing and its Effects on On-Time Performance" Journal of Air Transport Management, 58, 76-90. http://dx.doi.org/10.1016/j.jairtraman.2016.10.001

Recipient of the Best Graduate Research Paper Award. Department of Economics, Kansas State University, 2016

Yimga, J. (2017) "Mitigating Loan Repayment Troubles during Microfinance Expansion: Evidence from a Large Panel," Journal of Economic Development, 42(2), 39.
Yimga, J. (2016) "The Impact of High Microfinance Growth on Loan Portfolio" Journal of International Development, 28, 697–714. doi:10.1002/jid.3144
Research Projects
"Airline Code-sharing and Capacity Utilization" (with Javad Gorjidooz)
"Airline Alliance and Product Quality: The Case of the U.S. Domestic Airline Industry" (with Philip Gayle)
"Merger Cost Effects Based on Existence of Pre-merger Competition Between Merger Firms" (with Huubinh Le)
Conference Presentations
2018

22nd Air Transport Research Society World Conference, Seoul, Republic of Korea, July 2 – 5, 2018 (scheduled to present)
59th Annual Transportation Research Forum, Minneapolis, MN, April 10 – 11, 2018 - Presenter
WEI International Academic Conference, Barcelona, Spain, March 12 – 14, 2018 - Presenter

2017

87th Annual Meeting of the Southern Economic Association, Tampa, FL, Nov. 17 – 19, 2017 - Presenter and Discussant
21st Air Transport Research Society World Conference, Antwerp, Belgium, July 5 – 8, 2017 - Presenter and Discussant
51st Annual Conference of the Canadian Economics Association, Antigonish, Nova Scotia, Canada, June 1 – 4, 2017 - Session Chair and Presenter
43rd Annual Meeting of the Eastern Economic Association, New York, NY, Feb. 23 – 26, 2017 - Session Chair and Presenter

2016

53rd Annual Meeting of the Missouri Valley Economic Association, Saint Louis, MO, Oct. 27 – 30, 2016 - Presenter and Discussant
80th Annual Meeting of the Midwest Economics Association, Evanston, IL, April 1 – 3, 2016 - Presenter and Discussant
21st Annual K-State Research Forum, Kansas State University, April 2016 - Presenter

2015

52nd Annual Meeting of the Missouri Valley Economic Association, Kansas City, MO, Oct. 22 – 24, 2015 - Presenter and Discussant
45th Annual Meeting of the Illinois Economics Association, Chicago, IL, Oct. 16 – 17, 2015 - Presenter
Inaugural Faculty Research Forum, Junction City, Kansas - Presenter
20th Annual K-State Research Forum, Kansas State University, April 2015 - Presenter
---
Professional Experience
Assistant Professor, Embry-Riddle Aeronautical University-Prescott, AZ. 2016–present
Instructor, Johns Hopkins University, Center for Talented Youth, Baltimore, MD. Summer 2016
Primary Instructor/Graduate Teaching Assistant, Kansas State University, 2012–2016
Payroll Accountant, Razel, 2006–2008
Intern, GECEFIC Microfinance, 2004–2005
---
Memberships and Credentials
American Economic Association, 2011-Present
Missouri Valley Economic Association, 2013-Present
Midwest Economics Association, 2015-present
---
Awards, Honors and Recognitions
Outstanding Researcher/Scholar of the Year. College of Arts and Sciences, Embry-Riddle Aeronautical University, 2018
Undergraduate Research Institute Grant, $750. Embry-Riddle Aeronautical University, 2018
Undergraduate Research Institute Grant, $2,700. Embry-Riddle Aeronautical University, 2017
Undergraduate Research Institute Grant, $1,600. Embry-Riddle Aeronautical University, 2017
Research Travel Grant, $1,900. College of Arts & Sciences, Embry-Riddle Aeronautical University, 2017
Research Travel Grant, $1,500. Business Department, Embry-Riddle Aeronautical University, 2017
Research Travel Grant, $1,200. Business Department, Embry-Riddle Aeronautical University, 2017
ERAU Accelerate Research Initiative, $50,000. Bowen, B.D., Holt, T.B., Vasigh, B., Ison, D., Burgess, S., Fink, M., Yimga, J., & et al. (2016, October). Institute for Global Air Transport Analytics (IGATA) – An ERAU Center of Research Excellence. Pre-proposal-approved.
Research Travel Grant, $1,100. Business Department, Embry-Riddle Aeronautical University, 2016
Best Graduate Research Paper Award, $500. In recognition of outstanding commitment to and achievement in the study of economics, Economics Department, Kansas State University, 2016
K-State Research Forum Award (1st Place), $500. In recognition of outstanding research presentation, Graduate Student Council, Kansas State University, 2016
Research Travel Grant, $600. Department of Economics, Kansas State University, 2016
Diversity Excellence Grant, $500. In recognition of demonstrated interest, experience and ability in promoting cultural competency and diversity, College of Business Administration, Kansas State University, 2016
M. Jarvin Emerson Award, $1,850. Awarded to a Ph.D. student for exceptional scholarship and potential for research, Economics Department, Kansas State University, 2015
Arts & Sciences Graduate Student Research Travel Grant, $800. Kansas State University, 2015
Research Travel Grant, $500. Graduate School, Kansas State University, 2015
K-State Research Forum Award (3rd Place), $125. In recognition of outstanding research presentation, Graduate Student Council, Kansas State University, 2015
"Tutors Make a Difference" Award, $300. Bestowed to a tutor whose work is exemplary and demonstrates a commitment to student success, Totally Tutoring, Kansas State University, 2014
BA Cargill Diversity Grant, $1000. In recognition of demonstrated interest, experience and ability in promoting cultural competency and diversity, College of Business Administration, Kansas State University, 2013
Academic Excellence Scholarship Award, $2,000. Recognizes outstanding academic achievement by a Master's student, School of Business, Alabama A&M University, 2010
Highest Academic Average Award. Awarded to graduate student with highest GPA in the MBA program, School of Business, Alabama A&M University, 2010
Business Plan Competition Award. Awarded to a student for outstanding business plan presentation, School of Business, Alabama A&M University, 2010