Kari Jordan
Title

Adjunct Faculty

Email

Department

Department of Engineering and Technology

College

Worldwide College of Aeronautics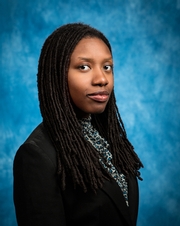 ---
External Links
---
Biography
Dr. Kari L. Jordan is a Post-Doctoral Researcher and Adjunct Professor at Embry-Riddle Aeronautical University in Daytona Beach, FL. A product of the Detroit Public School system, after graduating from Martin Luther King High School Dr. Jordan attended Michigan Technological University. There she received B.S. and M.S. degrees in Mechanical Engineering and interned with various companies including Marathon Petroleum Company, S.C. Johnson, Ford Motor Company, and Educational Testing Services. As a graduate student, Dr. Jordan received fellowships from the National Society of Black Engineers (NSBE), King-Chavez-Parks Initiative, and the National GEM Consortium. Dr. Jordan has served on the Board of Directors for the National Society of Black Engineers (NSBE) for several years, served as the Interim Coordinator of African American Student Support at Michigan Tech, and served as an Interim Academic Advisor. For more than 10 years she has provided students, parents, and various institutions with strategies to achieve personal and professional success in science, technology, engineering, and mathematics (STEM) education. 
Dr. Jordan earned a Master's in Education and Doctor of Philosophy in Engineering Education at The Ohio State University. While pursuing these degrees she interned for United Technologies Corporation, and served as the President of the Ohio Diversity Council.
Dr. Jordan's research interests include engineering self-efficacy and underrepresented students. Her current research is on how faculty choose to adopt evidence-based instructional practices (EBIPs).
---
Education
Ph.D. - Doctor of Philosophy in Education: Teaching & Learning, Ohio State University System : Columbus
M.A. - Master of Arts in Education: Teaching & Learning, Ohio State University System : Columbus
M.S. - Master of Science in Mechanical Engineering, Michigan Technological University
B.S. - Bachelor of Science in Mechanical Engineering, Michigan Technological University
---
Currently Teaching
ENGR 120: Graphical Communications
---
Publications
---
Jordan, K., Pembridge, J., Wilson, T., Steinhauer, H., "Apprenticeship of Observation: Implications for the adoption of evidence-based instructional practices", Proceedings of the Frontiers in Education Conference, El Paso, Texas, October 2015
Pembridge, J., Jordan, K., Wilson, T., Steinhauer, H., "Stages and Processes of Pedagogical Change in Engineering Education - An application of TTM", Proceedings of the Frontiers in Education Conference, El Paso, Texas, October 2015
Jordan, K., Pembridge, J., "Group and Self-Regulated Learning: Industry Practices in the First-Year Engineering Experience", Proceedings of the First Year Engineering Experience Conference, Roanoke, VA, August 2015
Jordan, K., Pembridge, J., Williams, S., Steinhauer, H., Wilson, T., Holton, D., "Knowledge Transfer of Evidence-Based Instructional Practices in Faculty Communities of Practice", Proceedings of the ASEE Conference and Exhibition, Seattle, WA, June 2015
Jordan, K., Sorby, S., "Intervention to Improve Engineering Self-Efficacy and Sense of Belonging of First-Year Engineering Students", Proceedings of the ASEE Conference and Exhibition, Indianapolis, IN, June 2014
Jordan, K., Sorby, S., "Pilot Intervention to Improve "Sense of Belonging" of Minorities in Engineering," Proceedings of the ASEE Conference and Exhibition, San Antonio, TX, June 2012
Jordan, Kari L., Pakzad, A., Oats, R., "Faculty and Student Perspectives on Internet-Based Engineering Education," Journal of Online Engineering Education, Vol. 2, No. 2, December 2011
Jordan, K., Gaskins, W., "Understanding engineering self-efficacy of students involved with a professional minority engineering society," Proceedings of the Research in Engineering Education Symposium, Madrid, Spain, October 2011
Jordan, K., Donahue, T., Amato, S., Sorby, S., "Factors Influencing the Engineering Self-Efficacy of Female Engineering Students at Urban vs. Rural Universities," Proceedings of the Frontiers in Education Conference, Rapid City, SD, October 2011
Jordan, K., Donahue, T., Amato, S., Sorby, S., "Are There Differences in Engineering Self-Efficacy Between Minority and Majority Students Across Academic Levels?"
Proceedings of the ASEE Conference and Exhibition, Vancouver, BC, Canada, June 2011
Jordan, K., Pakzad, A., Oats, R., "Ethical and Societal Implications of Internet Based Engineering Education: Faculty and Student Perspectives," Proceedings of the ASEE Conference and Exhibition, Vancouver, BC, Canada, June 2011
J.W. Sutherland, J.L. Rivera, K.L. Jordan, M. Law, M.J. Hutchins, T.L. Jenkins, K.R. Haapala, "Challenges for the Manufacturing Enterprise to Achieve Sustainable Development," Proceedings of the 41st CIRP Conference on Manufacturing Systems, pp. 15-18 Tokyo, Japan, 2008
Haapala, K., Jordan, K., and Sutherland, J.W., "A Life Cycle Environmental and Economic Comparison of Clothes Washing Product-Service Systems," Transactions of the NAMRI/SME, Vol. 36, pp. 333-340, 2008
Miller, M., Jordan, K., "Engineering Design Curricula Review," Proceedings of the ASEE North Midwest Section Conference, September 2007
Garcilaso, L., K. L. Jordan., Kumar, V., M. J. Hutchins, and J.W. Sutherland, "A Life-cycle Comparison
---
Professional Experience
Engineering Education Independent Consultant
Technical consultant and trusted advisor for academic institutions, industry representatives, non-profits, and other small businesses interested in developing stellar STEM programs. Secured contract to manage technical writing proposals (i.e. Simulations and Training Engineering Services (STES) and Indefinite Delivery/Indefinite Quantity (IDIQ) contract).
Key Accomplishments:
Utilize engineering solution-selling techniques to create added value and extend relationships
Develop STEM outreach proposals targeting underrepresented and disabled 9th-12th grades students
Program Manager (The Ohio LSAMP Alliance), Lecturer (Engineering Education Innovation Center)
Developed and implemented 10 alliance-wide STEM activities and programming over the course of 6 months.
Key Accomplishments:
Revitalized student involvement in the alliance resulting in 98% retention of students in STEM majors
Ran daily program operations, benchmarking streamlined operations processes and innovative marketing strategies to promote best-in-class engineering education services and programs
Lectured two sections of first-year engineering courses teaching engineering fundamentals, ethics, MATLAB and SolidWorks. Managed four teaching assistants
---
Memberships and Credentials
Professionals Secretary, National Society of Black Engineers (NSBE)
Member, American Society for Engineering Education (ASEE)
---
Awards, Honors and Recognitions
2016 Best Presentation Award ASEE EDGD Midyear Conference