Keith Garfield
Title

Professor

Email

Department

Electrical Engineering and Computer Science Dept

College

College of Engineering
Areas of Expertise
Formal languages, intelligent software agents, robotics, software analysis and optimization, and formal representations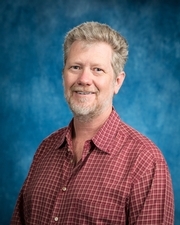 ---
Biography
Dr. Garfield brings almost two decades of industry experience into the classroom.  He began his career as a structural engineer with McDonnell-Douglas, designing and testing space flight hardware used on a variety of satellites.  Following that, he worked on the shuttle payload integration team at the Kennedy Space Center before becoming a researcher at the Institute for Modeling and Simulation at the University of Central Florida.  Dr. Garfield uses his experience in the corporate and academic fields to relate classroom material to real world applications.
 Dr. Garfield teaches the formal mathematics and formal representations necessary to pursue software and computer engineering disciplines.  Through the study of specialized mathematical concepts and formal logic, students acquire the tools needed to think clearly about software development processes and computer circuitry design.  Dr. Garfield also teaches courses discussing the underlying nature of computer programming languages, and investigating modeling and simulation concepts. 
 Dr. Garfield is actively involved with a number of research activities.  He advises students developing software for ERAU's ground robotic competition team.  He is participating in designing experiments to study how air traffic controllers and pilots interact in the airspace of the future.  These experiments allow real air traffic controllers and pilots to try out new procedures in a virtual airspace.  He is also interested in creating artificially intelligent agents that are able to interact with humans in natural and intuitive ways to be used as virtual tutors on classroom topics.
---
Education
Ph.D. - Doctor of Philosophy in Computer Science,

University of Central Florida

M.S. - Master of Science in Computer Science,

University of Central Florida
---
Currently Teaching
CS 225

:

Computer Science II

CS 225L

:

Computer Science II Lab

CS 362

:

Computing Theory

CS 800

:

Dissertation

EE 327

:

Electrical Engineering Fund

CS 332

:

Organiz of Program Languages

SE 410

:

Software Modeling
---