Laksh Narayanaswami
Title

Professor

Email

Department

Aerospace Engineering Department

College

College of Engineering
Areas of Expertise
Teaching and research interests in airbreathing and rocket propulsion, chemical kinetics, chaos, combustion, combustion instability, unsteady combustion.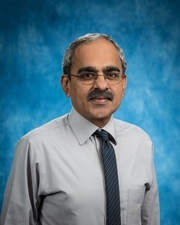 ---
Biography
Dr. Narayanaswami has teaching and research interests primarily in the general area of thermal sciences, specifically in propulsion and combustion. He also has interest in gas dynamics and has conducted research both as research participant and under contract with the then Morgantown Energy technology center, Department of Energy. He is also a recipient of AD Welliver Fellowship, The Boeing Company. Dr. Narayanaswami has publications in the areas of rocket combustion instability, pulse combustion and chaos.  
Dr. Narayanaswami was the initiator of various program and course proposals in the AE department. He originated the proposal for the AE accelerated program as well as the proposal for establishing the propulsion design track of the AE curriculum. Also, he originated proposals for a number of existing undergraduate and graduate courses in aerospace engineering.
---
Education
Ph.D. - Doctor of Philosophy in Aerospace Engineering,

Georgia Institute of Technology-Main Campus

M.S. - Master of Science in Aerospace Engineering,

Georgia Institute of Technology-Main Campus
---
Currently Teaching
AE 512

:

Combustion I

AE 308

:

Compressible Aerodynamics

CEAE 496

:

Coop Ed Aerospace Engineering

CEAE 397

:

Coop Ed Aerospace Engineering

CEAE 396

:

Coop Ed Aerospace Engineering

CEAE 296

:

Coop Ed Aerospace Engineering

AE 435

:

Jet Propulsion Preliminary Des

AE 414

:

Space Propulsion
---