Leila Halawi
Title

Associate Professor, College of Aviation; Program Coordinator, MS in Aviation and Aerospace Sustainability

Department

Department of Graduate Studies

College

College of Aviation
Office Hours
By Appointment
Areas of Expertise
Management Information Systems, Information Technology Management & Strategy,  Knowledge Management , Predictive Analytics & Business Intelligence, Research Methods, Curriculum Design, DACUM, Sustainability.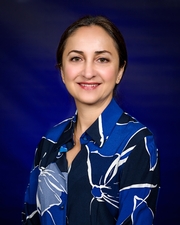 ---
External Links
---
Biography
Dr. Leila Halawi is a tenured associate professor with the College of Aviation, Department of Graduate Studies, Worldwide Campus. Dr. Halawi served as the MMIS Program Chair, MIS Discipline Chair, Chair of the Research Committee for the Senate, and the Director of Research for the College of Business.
She developed the MMIS curriculum. She also started Alliances with SAS®, Tableau, and Microsoft. The Partnership with SAS resulted in a joint certificate for the Business Intelligence and Analytics specialization. She holds a Certification from Sloan C Consortium in Online Teaching and a certificate from Quality Matters on Applying the QM Rubrics (APPQMR). She is a Certified DACUM facilitator and coordinator.
She is an advisory board member and a  reviewer for the Enterprise Architecture Body of Knowledge (EABOK), Mitre Corporation. She is a Reviewer for the Journal of Computer Information Systems (JCIS) and the International Association for computer information systems (IACIS). She is also a program committee member and reviewer for the European Conference on Social Media (ECSM), the European Conference on Knowledge Management (ECKM) and the International Conference on Intellectual Capital and Knowledge Management (ICIKM), the Federated Conference on computer science and information systems (FEDCSIS). She is also part of the IT editorial board of the multimedia educational resource for learning and online teaching (MERLOT).
She received the SAS 2020 Emerging Educator Award Recipient. She co-authored these books: Harnessing the Power of Analytics and Applying Predictive Analytics Finding Value in Data Published by Springer, 2019 & 2022.
She contributed to the 8th, 9th, and 10th editions of Decision Support and Business Intelligence Systems Book. She also contributed to the 11th edition of Analytics, Data Science & Artificial Intelligence Book. Her research has been published in the Journal of Computer Information Systems (JCIS), the Learning Organization Journal, the Journal of Business Education, the Electronic Journal of Knowledge Management (EJKM), the Academy of Information and Management Sciences Journal (AIMSJ), Journal of International Technology and Information Management, Journal of Education for Business, Academy of Healthcare Management Journal (AHCMJ), International Journal of Aviation, Aeronautics, and Aerospace (IJAAA), and the Collegiate Aviation Review International, among others. She is frequently invited to present her research at national and international conferences.
Her current research interests include knowledge management, Business Intelligence, information systems success and strategy, ethical impacts of information technology, promoting innovation, curriculum development, design, enterprise architecture and systems, big data, and predictive analytics. Her recent research focuses on developing a curriculum (DACUM), a semi-structured curriculum design concept that uses subject matter experts who understand industry needs as the basis of curriculum design. The purpose of this research is to strengthen the research effort focused on bridging the gap between industry needs for sustainability professionals, IT/IS/MIS workforce, and university curricula. The ultimate goal is to begin discussing the importance of creating an industry-ready workforce by designing industry-relevant sustainability and IT/IS/MIS curriculum and encouraging the flow of information between industry and academia to serve its students best and prepare them for the industry. 
Dr. Halawi lives in Clearwater, Florida, and enjoys traveling, swimming, publishing, and attending national and international conferences.
---
Education
D.B.A. - Doctor of Business Administration in Information Technology Management, Nova Southeastern University
M.S. - Master of Science in Business, Beirut University College
B.S. - Bachelor of Science in Business and Management, Beirut University College
---
---
Courses Taught
AVM 6200 Certificate Capstone Course 
RSCH 670 , RSCH 665 , RSCH 650, RSCH 700A, RSCH 700B
MOET 606, MOET 611 & MOET 691
AASI 610 Aviation/Aerospace Org Dev Leadership and Workforce Development
AASI 600 Sustainable Aviation/Aerospace Perspectives
AASI 605 Aviation and Aerospace Sustainable Organizations
AASI 691 Aviation and Aerospace Sustainability Graduate Capstone
Aviation Resilience Through Sustainability MOOC
MMIS 501; MMIS 502; MMIS 521; MMIS 522; MMIS 523; MMIS 524; MGMT 221; CSCI 109; MBA 521, MMIS 561.

Primary Duties: 
Associate Professor and Program Coordinator, MS in Aviation and Aerospace Sustainability  COA- Graduate Studies - Aug 2019 - Present
Director of Research: Sept 2017- July 31, 2019
Discipline Chair (MIS) - 2014 - July 31, 2019.
Program Chair M.S. in Management Information Systems  /Asst. Professor, College of Business, Worldwide Campus (2014 - Aug 2017).
---
---
User Publications
Books: 
Harnessing the Power of Analytics (2022)
https://link.springer.com/book/10.1007/978-3-030-89712-3?sap-outbound-id=C3CE5803CD1E9505A2FA6BA107378E6CE7715742
Applying Predictive Analytics Finding Value in Data (2019). 
https://www.springer.com/us/book/9783030140373
​Book Chapters:
Turban, E, Aronson, J., Liang, T. & Sharda, R. (2007). Decision Support Systems and Business Intelligence Systems, 8th Edition, Prentice Hall, Upper Saddle River, NJ, 2007, Chapter 5 – Data Warehousing - contributing author.
 Turban, E , Aronson, J., Liang, T. & Sharda, R. (2008). Business Intelligence: A Managerial Approach, 1st Edition, Prentice Hall, Upper Saddle River, NJ,  Chapter 2- Data Warehousing – contributing author. 
​
---
Memberships and Credentials
Member of the National Business Aviation Association (NBAA) 
Member of the Decision Sciences Institute 
Member of the Association for Information Systems, since 2002
​Member of the International Association for Computer Information Systems, since 2005
---
Awards, Honors and Recognitions
Awards
SAS 2020 SAS Emerging Educator Award Recipient.
Recognition of an educator who has shown exemplary progress in advancing analytics education and preparing students for careers in analytics and data science. This prestigious award is given to an educator whose efforts and impact in the field and engagement with SAS have spanned five or fewer years.
https://www.sas.com/en_us/news/press-releases/2020/june/education-awards-sgf20.html?
​Embry-Riddle Aeronautical University Worldwide, FIRST GRANT CAT B 20/21, Rethinking Credentials for Aviation and Aerospace Aviation Sustainability: A DACUM Approach.
Embry-Riddle Aeronautical University Worldwide Research Competition 6th Place Team - $5000.
Halawi, L., Kappers, W., & Glassman, A. (2016, June). Information Systems (IS) and Information Security & Assurance (ISA) Curriculum Development and Design: A DACUM Approach. Award announced online via the ERAU portal.
Distinguished Research Award from the Academy of Health Care Management, Oct 15, 2009
Recognition
2022 Textbook Affordability Champions. Champions are ERAU faculty or instructional designers who are engaged in open education and textbook affordability.
​​2020 College of Aeronautics Certificate of Achievement Award for 'Team Aero' 
Dr Leila Halawi has been recognized during the Innovation and academic excellence celebrated by Embry-Riddle Worldwide during its annual Latitude Awards ceremony held on Tuesday, Nov. 6, in Daytona Beach. These bi-annual awards, held in conjunction with the WWC, recognize the extraordinary efforts of Worldwide faculty and staff who are committed to student success.

Business Partner of the Year: 
Andre de Waal (SAS) and Leila Halawi  (College of Business)

Dr. Leila Halawi has achieved the Peer Reviewer Extraordinaire status with MERLOT (Multimedia Educational Resource for Learning and Online Teaching). MERLOT is an international initiative enabling faculty to integrate technology in higher education and received my appreciation award during the OLC Innovate Conference In Nashville TN , April 19, 2018 and in Denver CO,  May 2, 2019,  virtual 2020, 2021 and 2022.

Recognition for Excellence: Academic Program Oversight, ERAU Worldwide Online Education, June 22, 2017, Daytona Beach. Florida

Dr Leila Halawi received a session chair certificate of appreciation from the OCL innovate – Education Reimagined April 18, 2018, and in 2019.
​Professional Growth Activities
Certified Life Coach
Graduate of 2019 Inaugural Practicing Leaders Program, ERAU Leadership Institute (May 7, 2019)