Leroy Long III
Title

Associate Professor

Email

Department

Engineering Fundamentals

College

College of Engineering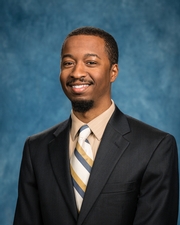 ---
External Links
---
Biography
Dr. Leroy Long III is an Associate Professor in the Engineering Fundamentals Department where he co-advises the National Society of Black Engineers (NSBE) student chapter and directs a research team called Engineering, Arts & Sports Engagement (EASE). His research interests include: (a) broadening access and participation in STEM, (b) educational equity and ethics, as well as (c) college and career readiness, with a particular focus on Black students, student-athletes, and students from other marginalized groups. He has helped to lead research, funded by the NCAA Innovations in Research and Practice Grant, to improve the well-being of the student-athlete through support of their career readiness. He has also helped to lead research, funded by NSF (award # 2024973), to examine the potential benefit of using critical narratives as a pedagogical tool in the professional formation of engineers.
Dr. Long has served on two NSF advisory boards (award # 1734347 and 1159666). As a graduate student, he assisted with research, funded by NSF (award # 0747304), to study factors that broaden minoritized student participation and success in STEM fields. He has also published research with the Movement Lab and various centers at OSU. While collaborating with other critical scholars, he has used quantitative, qualitative, and mixed-methods approaches. 
Dr. Long has taught undergraduates in the First-Year Engineering Program and Department of Mechanical Engineering at OSU. He has served as a facilitator for both the University Center for the Advancement of Teaching (UCAT) and Young Scholars Program (YSP) while also becoming a Bell Fellow at OSU. Furthermore, Dr. Long has worked in industry at Toyota through participation in INROADS. He has a high record of service with organizations such as the American Society of Engineering Education (ASEE) and National Society of Black Engineers (NSBE).
Dr. Long earned his PhD in STEM Education with a focus on Engineering Education within the Department of Teaching and Learning at The Ohio State University (OSU). He earned his Master's in Mechanical Engineering at OSU and his Bachelors in Mechanical Engineering at Wright State University. Dr. Long is a native of Dayton, OH - the birthplace of aviation, the cash register, Funk and the NFL's first game. He is a proud graduate of Dayton Public Schools and Wright STEPP - Wright State University's Science, Technology, and Engineering Preparatory Program. 
---
Education
Ph.D. - Doctor of Philosophy in STEM Education: Teaching and Learning, Ohio State University-Main Campus
M.S. - Master of Science in Mechanical Engineering, Ohio State University-Main Campus
---
Currently Teaching
EGR 120: Graphical Communications
---
Courses Taught
EGR 195A - Spatial Visualization 
EGR 195B - Introductory Problems for Engineering Applications
EGR 120 - Graphical Communications
ME 700A - Research Methods
---
User Publications
Selected Publications*
Long, L. L., III, & Travers, C. S. (2021). Brotherly bond: A collaborative autoethnographic analysis of Black male scholars. Journal of Negro Education, 90(2), 183-194.
Long III, L. L, Council III, M. R., & Artis, S. (2021). Black unicorns: STEM access for Black student-athletes in non-revenue sports. Proceedings from the virtual and 3rd Annual Conference of CONECD - The Collaborative Network for Engineering and Computing Diversity. Retrieved from https://peer.asee.org/36072
Long III, L. L, & Gooch, M. D. (2020). Set and spike: Mentoring a STEM student-athlete for undergraduate engineering education research. Perspectives on Undergraduate Research & Mentoring, 9(1).
Long, L. L., III. (2020). Toward an antiracist engineering classroom for 2020 and beyond: A starter kit. Journal of Engineering Education, 109:636-639. https://doi.org/10.1002/jee.20363
Long, L. L., III, & Morello, C. (2019). Using more frequent and formative assessment when replicating the Wright State Model for Engineering Mathematics Education. Proceedings from 2019 ASEE Annual Conference, Tampa, FL. Retrieved from https://peer.asee.org/33509
Long, L. L., III (2019). Using active learning and the Wright State Model for Engineering Mathematics Education to cultivate academic success among first-year engineering students. Proceedings from 2019 ASEE Southeastern Section Conference, Raleigh, NC. Retrieved from http://www.asee-se.org/proceedings/ASEE2019/papers2019/131.pdf
Long, L. L., III, & Sun, L. (2018). Entrepreneurial mindset: Integrating creative thinking and innovation into a graphical communications course. The Engineering Design Graphics Journal, 82(2).
Long, L. L., III, & Henderson, T. S. (2017). Lessons learned from successful Black male "buoyant believers" in engineering and engineering-related fields. Proceedings from 2017 ASEE Annual Conference and Exposition. Columbus, OH. Retrieved from https://peer.asee.org/28620
Long, L. L., III (2016). How undergraduates' involvement affects sense of belonging in courses that use technology. Proceedings from 2016 ASEE Annual Conference and Exposition. New Orleans, LA. doi:10.18260/p.25491
Long, L. L., III, & Mejia, J. A. (2016). Conversations about diversity: Institutional barriers for underrepresented engineering students. Journal of Engineering Education. doi:10.1002/jee.20114
Strayhorn, T. L., Long, L. L., III, Kitchen, J. A., Williams, M. S., & Stentz, M. (2013). Academic and social barriers to Black and Latino male collegians' success in engineering and related STEM fields. Proceedings from 2013 ASEE Annual Conference, Atlanta, GA. https://peer.asee.org/19146
Long, L. L., III, & Srinivasan, M. (2013). Walking, running, and resting under time, distance, and average speed constraints: Optimality of walk-run-rest mixtures. Journal of the Royal Society Interface. 10(81). 20120980. doi:10.1098/rsif.2012.0980
* Note: A more complete and up-to-date list of publications can be found via the following links:
https://scholar.google.com/citations?hl=en&user=-c6E1zIAAAAJ&view_op=list_works&sortby=pubdate
https://commons.erau.edu/do/search/?q=%22leroy%20long%20iii%22&start=0&context=7332429&facet=
---
Memberships and Credentials
Co-Advisor and Member: National Society of Black Engineers (NSBE)
Member: American Educational Research Association (AERA)
Member: American Society of Engineering Education (ASEE)
---
Awards, Honors and Recognitions
NSBE Central Florida Professional (CFP) Member of the Year Awardee, NSBE Central Florida Professional Chapter, 2022
Finalist for the ASEE Commission on Diversity, Equity, and Inclusion's (CDEI) Best Diversity, Equity, and Inclusion Paper Award, ASEE Annual Conference, "Black in engineering: How the social justice efforts of Black academics affect change," 2021  
Apprentice Faculty Grant Program, Educational Research and Methods (ERM) Division of the American Society for Engineering Education (ASEE), 2019
EDGD Rising Educator Award, Engineering Design Graphics Division (EDGD) Division of the American Society for Engineering Education (ASEE), 2019
The Oppenheimer Award for Best Paper Presentation, ASEE EDGD 70th Midyear Conference, "Enhancing Engineering Students' Communication Skills through a Team-Based Graphics Course Project," 2016
Third-Place – Best Student Poster in Arts, Humanities & Social Sciences, 28th Annual Edward F. Hayes Graduate Research Forum, "How Student Involvement Affects Feelings of Connectedness in Courses that Use Technology," 2014
First-Place – Best Student Paper, 2013 ASEE North Central Section Conference, "How Engagement with Faculty and Peers Affects Value Development in Undergraduate Engineering Education: A National Survey Analysis"