Liza Kiesell
Title

Assistant Professor of Humanities and Communications

Email

Department

Humanities and Communication Department

College

Prescott College of Arts & Sciences
Office Hours
TTh: 11:00 am - 1:00 pm, F:10:00 am - 12:00 pm, and F: 2:00 pm - 4:00 pm
Areas of Expertise
Rhetoric

Business Management

Budgeting

European Art History

English History (1066-1601)

Shakespeare

Titanic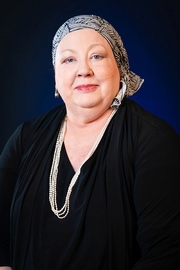 ---
Biography
Professor Kiesell is an Arizona native. She moved to Prescott from Scottsdale in February 2013 and is delighted with the area, as well as the honor of becoming full time faculty at Embry-Riddle Aeronautical University. After 25 years, in accounting and management, Professor Kiesell made a career change and began teaching college composition at local colleges. She has now taught more than 100 college classes and is enjoying the opportunity to use her professional background in COM222 Business Communications.

---
Education
M.B.A. - Master of Business Administration in Business Administration,

Arizona State University

M.A. - Master of Arts in English,

Northern Arizona University

B.S. - Bachelor of Science in Accountancy,

Arizona State University
---
Currently Teaching
COM 222

:

Business Communication
---
Courses Taught
Additional Courses:

:HUM401 -  Literature and Film

HUM302  - HIstory of Art Renaissance - 20th Century

COM222  - Business Communications

ENG102 -  Composition and Research Methods

ENG101 -  Freshman Composition

HUM101 -  Introduction to the Humanities

COL101 -  College Success

ENG091 -  Developmental English

---
Professional Experience
Arizona Department of Revenue, Phoenix, Arizona (2007-2008)

Manager, Process Administration Division
Manage the five employees responsible for depositing Arizona tax dollars, as well as processing NSF checks, bank adjustments, and returned warrants
Supervise compilation and writing of policies and procedures for annual audit

Office of the Receiver, Scottsdale, Arizona (1991-2006)

Accounting Manager
Perform all accounting for seven insurance companies in receivership under the direction of the court appointed Special Deputy Receiver/U.S. Bankruptcy Trustee including cash management, payables, and receivables
Prepare annual receivership reports for the Arizona Superior Court and quarterly status reports for the Arizona Department of Insurance

Ramada, Inc., Phoenix, Arizona (1984-1990)

Senior Financial Analyst
Supervise the preparation of the annual budget for fifty company owned hotels by designing budget program, instructing hotel managers, reviewing managers budget, and making recommendations to senior operations vice president
Prepare five year plan for U.S. Hotel Operations

Motorola, Inc., Phoenix, and Mesa, Arizona (1980-1983)

Accountant II
Property and cost accounting as well as cost schedule status reporting for semiconductor manufacturer.

---
Memberships and Credentials
National Council of Teachers of English (NCTE)

Modern Language Association (MLA)

Arizona Women of Higher Education

---