Marwa M.H. El-Sayed
Title

Assistant Professor

Email

Department

Civil Engineering Department

College

College of Engineering
Areas of Expertise
Atmospheric chemistry
Air quality
Atmospheric pollution
Aerosol formation
Field measurements
Data analysis
Sustainability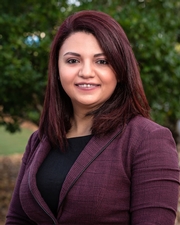 ---
External Links
---
Biography
Dr. El-Sayed is an assistant professor in environmental engineering in the civil engineering department at Embry-Riddle Aeronautical University (ERAU). El-Sayed's research interests lie in characterizing the processes and sources of atmospheric pollutants to better understand how human perturbs these processes to ultimately quantify their impact on climate change, policy making, and human health. She has over a dozen publications and presented her work in several national and international conferences.
El-Sayed received her PhD at University of Maryland, Baltimore County (UMBC) in Chemical, Biochemical & Environmental Engineering working on air pollution projects which focus on characterizing atmospheric aerosols particularly in the eastern United States. She holds a Masters degree from the University of Cambridge in the United Kingdom in Engineering for Sustainable Development. She received an M.Sc. and a B.Sc. degrees in Chemical Engineering with honors from Cairo University in Egypt.
Dr. El-Sayed joined Colorado State University as a postdoctoral fellow at the Atmospheric Science Department where she conducted several field studies to investigate the air quality in the western United States. Prior to her doctorate degree, El-Sayed has worked as a research fellow at the National Research Center of Cairo where she applied the concepts of cleaner production in the Egyptian industry. In addition, she worked as an environmental consultant for several projects in the Middle East and Europe.
---
Education
Ph.D. - Doctor of Philosophy in Chemical and Biochemical Engineering, University of Maryland-Baltimore County
M.S. - Master of Science in Sustainable Engineering, University of Cambridge
---
Courses Taught
CIV 222: Introduction to Environmental Engineering
CIV 417: Air Pollution
CIV 495: Introduction to Sustainability
CIV 508: Environmental Engineering
---
User Publications
Christopher Hennigan and Marwa El-Sayed, Atmospheric water-soluble organic carbon in Baltimore, MD. Knowledge Network for Biocomplexity. 2018, doi:10.5063/F1DN437M.
El-Sayed, M.M.H., Ortiz-Montalvo, D.L., and Hennigan, C.J., "The effects of isoprene and NOx on secondary organic aerosols formed through reversible and irreversible uptake to aerosol water," Atmos. Chem. Phys., 18, 1171-1184, 2018, doi.org/10.5194/acp-18-1171-2018.
Hennigan C.J, Hodzic A., El-Sayed M.M.H., "Detailed characterization of a mist chamber for the collection of water-soluble organic gases," Atmos. Environ., 188, 12-17., 2018.
El-Sayed M.M.H., Amenumey D., Hennigan C.J, "Drying-induced evaporation of secondary organic aerosol during summer," Environ. Sci. Technol., 50 (7), 3626–3633, 2016, doi: 10.1021/acs.est.5b06002.
El-Sayed M.M.H.; Wang, Y.; Hennigan, C. J., "Direct atmospheric evidence for the irreversible formation of aqueous secondary organic aerosol," Geophys. Res. Lett. 2015, 42, 5577–5586; 2015, doi: 10.1002/2015GL064556.
El-Sayed M.M.Hosni, N.A.Ibrahim, N.M.Abdel Moneim, E. El-Sayed, "Pollution Prevention of cotton-cone reactive dyeing", J. Clean. Prod., 16 (2008) 1321-1326, 2008.
---
Professional Experience
Postdoctoral fellow: Colorado State University, Colorado, USA (2018-2019)
Research assistant: University of Maryland, Baltimore County, Maryland, USA (2013-2018)
Environmental consultant: EcoConServ Consulting, Cairo, Egypt (2009-2011)
Research assistant: The American University in Cairo, Cairo, Egypt (2006-2008)
Research assistant: National Research Center, Cairo, Egypt (2003-2011)
---
Memberships and Credentials
American Association for Aerosol Research (AAAR)
American Institute of Chemical Engineers (AIChE)
American Academy of Environmental Engineers and Scientists
Air and Waste Management Association (AWMA)
---
Awards, Honors and Recognitions
FIRST program, Faculty Internal Awards Program for the characterization of atmospheric microplastics, 2020
Best Student Poster Award, AAAR 36th Annual Meeting, 2017
AGU Fall Meeting Travel Grant, 2017
AAAR 35th Annual Meeting Travel Grant, 2016
Shell Centenary Scholarship, University of Cambridge, 2008