Mitch Geraci
Title

Associate Professor

Email

Department

Aviation Maintenance Science Department

College

College of Aviation
Office Hours
Please see syllabus or contact me to schedule a meeting. geracim@erau.edu or 386-226-6773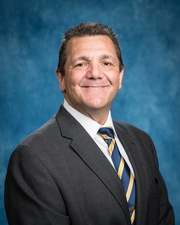 ---
External Links
---
Biography
Professor Geraci came to Embry-Riddle Aeronautical University in Daytona Beach, Florida in 2006 as an Instructor in the Charles Taylor, Aviation Maintenance Science Department. He has proven instrumental in ERAU's continued success as the world's most prestigious aviation university.  He has since been promoted twice, to Assistant Professor and then to his current title of Associate Professor.
Professor Geraci came to Embry Riddle Aeronautical University after more than a 17-year career with United Airlines. He brought a wealth of knowledge and experience from many facets of the aviation industry. He holds grass-roots experience in various areas of aviation. Professor Geraci began his aviation career with Midway Airlines in White Plains, NY as an aircraft cleaner while pursuing his FAA Airframe and Powerplant certificates, associate, and baccalaureate degrees. He was transferred and promoted to several positions within Midway Airlines including Operations Agent, Security Agent, Baggage Handler, Deicing Agent, and Ramp Supervisor.
Pan Am then employed Professor Geraci as an Operations Coordinator where he gained valuable experience in airport operations where his primary job was Airport Crash, Fire, and Rescue (currently ARFF). He also became proficient in other duties associated with operating an airport.
After several years with Pan Am, Professor Geraci was offered a position as an Aviation Maintenance Technician with United Airlines in San Francisco at United's overhaul and heavy maintenance facility. After several years of accumulating experience, He transferred to a Line Maintenance Operation position at Washington-Dulles International Airport.
His career with United Airlines consisted of many facets of the maintenance realm. Professor Geraci ran the gamut from technician to instructor, to engineer, to management. He was part of the Aircraft Recovery Team at United Airlines which consisted of constant readiness to travel anywhere in the world to recover any of United's aircraft that may have been incapacitated. Sadly, due to the training he received being part of the Aircraft Recovery Team, Professor Geraci was dispatched to Shanksville, Pennsylvania on September 11, 2001, to view the wreckage of United 93.
Notably, during Professor Geraci's tenure at United Airlines, he had the honor of volunteering at the Smithsonian National Air and Space Museum - Udvar-Hazy Center located in Chantilly, Virginia. He had the distinct privilege to work on historic aircraft such as, but not limited to, the Enola Gay (B-29) and the Space Shuttle Enterprise.
---
Education
M.S. - Master of Science in Aeronautics: Aviation/Aerospace Education and Aviation Aerospace Management, Embry-Riddle Aeronautical University
---
---
Currently Teaching
AMSA 490: Aviation Technical Operations
AMS 365: Transport Category A/C Systems
---
Courses Taught
AMS 111   Regulations
AMS 118    General Familiarization / Regulations
AMS 132    Aircraft Systems I
AMS 133    Aircraft Systems II
AMS 263    General Aviation Aircraft Systems
AMS 365    Transport Category Aircraft Systems
AMSA 490  Aviation Technical Operations (Aircraft Maintenance Leadership / Management)
AMSA 490  Aviation Technical Operations (Study-abroad in Greece with Aegean Airlines)
AS 120       Principles of Aeronautical Knowledge
BA 419       Aviation Maintenance Management
---
Memberships and Credentials
FAA A&P, FCC GROL ​
---