M. Ilhan Akbas
Title

Associate Professor

Email

Department

Electrical Engineering and Computer Science Dept

College

College of Engineering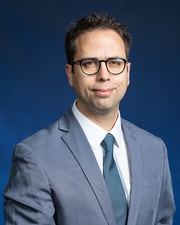 ---
External Links
---
Biography
Dr. M. Ilhan Akbas is an Assistant Professor at the Electrical Engineering and Computer Science Department of Embry-Riddle Aeronautical University. He received his PhD degree in Computer Engineering from the University of Central Florida. He has research interests in connected and autonomous cyber-physical systems, internet of things, modeling and simulation.  He serves on editorial boards and program committees of prestigious ACM and IEEE journals and conferences. His research has been funded through grants from National Science of Foundation, Federal Aviation Administration, Office of Naval Research, Florida Center for Cybersecurity, as well as industry.
Dr. Akbas is the author of more than 70 articles, which have appeared in prestigious venues such as IEEE Transactions, Society of Automotive Engineers (SAE) Edge Reports and flagship conferences of IEEE and ACM. He serves as an Editor for MDPI Journal of Sensors. The research work of Dr. Akbas on developing novel solutions for the testing and validation of autonomous vehicles has been covered by media, including Spectrum Bay News 9, Tampa Bay Business Journal and News 13. He gave invited talks about this research project at Sao Paulo, Brazil in 2018 and 2019. Dr. Akbas has industry experience in defense industry that started when he was a senior in college. He participated in multinational defense industry projects and worked on the standardization of tactical telecommunication systems. Before joining academia as a professor, he became a Cisco Certified Network Associate and also served as a database analyst at the Institute for Simulation and Training (IST), University of Central Florida.
Dr. Akbas served on the faculty of Florida Polytechnic University from 2016 to 2019, where he was one of the leading faculty to found the Advanced Mobility Institute. He taught at every level of computer science/engineering curriculum, served as the accreditation coordinator and participated in the development of two new concentrations "Software Engineering" for computer science department and "Intelligent Mobility" for data science department. Dr. Akbas is a member of IEEE, ACM and Complex Systems Society. 
---
Education
Ph.D. - Doctor of Philosophy in Computer Engineering, University of Central Florida
---
Currently Teaching
CS 490: Computer Sci Capstone Design I
CS 491: Computer Sci Capstone Dsgn II
CEC 420: Computer Systems Design I
EE 620: Digital Communications
CS 800: Dissertation
EE 420: Electrical Engineer Capstone I
CEC 690: Graduate Project
EE 690: Graduate Project
SE 700: Graduate Thesis
SE 320: Software Construction
SE 450: Software Team Project I
SE 451: Software Team Project II
SYS 417: Systms Eng Capstone Prjct I
SYS 418: Systms Eng Capstone Prjct II
---
Courses Taught
CE 421 / CS 491 / EE 421 / SE 451 / SYS 418 "Senior Design II" 2020, 2021, 2022, 2023 (Spring)

EE 620 "Digital Communications" 2020, 2021, 2022, 2023 (Spring)

CE 420 / CS 490 / EE 420 / SE 450 / SYS 417 "Senior Design I" 2019, 2020, 2021, 2022 (Fall)

SE 320 "Software Construction" 2019, 2020, 2021, 2022 (Fall)
---
---
Publications
NO
---