Narcrisha Norman
Assistant Professor, College of Aeronautics
Department of Engineering and Technology
Worldwide College of Aeronautics
Worldwide campus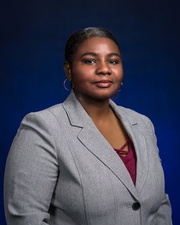 ---
Biography
Dr. Norman is a 2018-2019 Fulbright Scholar who actively volunteers as a NASA Solar System Ambassador. She is also a US Army Veteran who has enjoyed contributing to and learning from a variety of organizations. Among these organizations are Howard University, Clemson University, ECPI College of Technology, NASA, General Motors Corporation, the US Patent and Trademark Office and the National Science Foundation.
Dr. Norman is active in helping faculty establish successful research portfolios. Her research interests include fundamental aeronautics; Hypersonics; Theoretical Physics; Planetary Entry, Descent and Landing (EDL) system design and analysis; Dewar and Cryostat design and cryogenic material testing; Advances in STEM Education and Curriculum development; Advances in Curriculum development for the physically and/or sensory challenged; and mechanical system design and analysis for alternative energy production and storage in extreme environments.
Her personal interests include entrepreneurship, international collaborations and experiences, learning new and random things, homemade science experiments, very slow jogging and volunteering.
---
Education
Ph.D. - Doctor of Philosophy in Aerospace Engineering, Old Dominion University
M.S. - Master of Science in Mechanical Engineering, Southern Illinois University System : Carbondale
B.S. - Bachelor of Science in Mechanical Engineering, Southern Illinois University System : Carbondale
---
Publications
Static Performance Results of Propellers Used on Nano, Micro, and Mini Quadrotors RW Deters, OD Dantsker, S Kleinke, N Norman, M Selig, 2018 Applied Aerodynamics Conference, 4122
Identifying Critical Systems Thinking Skills and Opportunities Across ABET Programs Robinson-Bryant, F., Norman N., (2017)., Institute of Industrial & Systems Engineers (IISE) Annual Conference
Evaluating the State of the Adjunct Professors Relationship to ERAU as it Relates to COA, ERAU – Worldwide Norman N., Robinson-Bryant, F., (2017). Internal assessment
Reducing Large Viking I Based Martian EDL Response Surface Methodology Produced Quadratic Models N Norman, S Smith, 2016 17th AIAA/ISSMO Multidisciplinary Analysis and Optimization Conference, 3997
Hybrid-MCX-1, BWB and 777 Aircraft Comparison MA Clarke, NS Norman, ST Smith, ASME 2015 International Mechanical Engineering Congress and Exposition …
Dewar Configuration as an Approach to Maximizing the Cooling of Heat Loads in Two-Temperature Dewars Norman, N., Smith, S., 2015 Thermal and Fluids Engineering Summer Conference
---
Memberships and Credentials
Dr. Norman is a member of several organizations including: Council for Undergraduate Research (CUR), American Institute of Aeronautics and Astronautics (AIAA), Society of STEM Women of Color (SSWOC), and American Society of Thermal and Fluids Engineers (ASTFE)
.
---
Awards, Honors and Recognitions
2018: Fulbright Scholar
2017: NASA Solar System Ambassador (Volunteer)
2015: Presidential Management Fellows Finalist (US Office of Personnel Management)
2006: Presidential Volunteer Service Award (Council on Service and Civic Participation)
2004 – 2006: Bridge to the Doctorate Fellowship (Illinois LSAMP, NSF)
2003 – 2004: Multi-Ethnic Academic Excellence Award (SIU Carbondale)