Orin Godsey
Associate Professor of the Practice, College of Aeronautics; Associate Program Chair, MS in Aeronautics
Department of Graduate Studies
Worldwide College of Aeronautics
Worldwide campus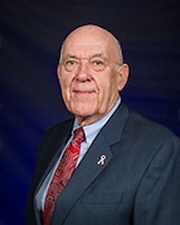 ---
Biography
Orin L. Godsey has a Bachelor of Science in Business Administration from the University of Nebraska at Omaha, 1968; Master of Business Administration from Rensselaer Polytechnic Institute, 1978; Mastersof Aeronautical Science from Embry-Riddle Aeronautical University, 2005; Academic Instructor School, safety education courses; National War College, 1987; Air War College, 1982; Armed Forces Staff College, 1979; Air Command and Staff College; Squadron Officer School.
Awards and Experience: Extensive experience working with the defense industry, universities, government agencies, airlines and the Air Force since 1968. Aviation safety experience includes leading the United States Air Force safety program, developing new programs, managing complex operations, consulting on aviation matters and marketing strategies, and teaching at the undergraduate and graduate levels.
Has experience as a Safety, Management and Marketing Consultant and at all levels of the United States Air Force. Also has extensive experience in aviation, management, airport planning, strategic planning, total management systems development, risk management development, and problem solving skills.
More than 20 years of aviation experience in safety, operations, management, needs assessment, and acquisition. Extensive training and teaching experience in both undergraduate and graduate aviation safety/management courses. More than 28 years of experience in human resources administration. Skilled business executive (planning, finance, safety, public relations, marketing, acquisition). Extensive safety expertise in diverse functional areas (aircraft, ground, occupational safety and health, space, missile, explosives and nuclear safety). High-level background in operations (safety, maintenance, and security). *Proficient system manager (superintended major Air Force weapons system acquisition programs).
United States Air Force, 1968-1997.
Commercial pilot, airplane single- and multi-engine land, type ratings N-265, B-707, and B-720, with approximately 3,300 hours of total flight time. Has flown FB-111, KC-135, B-52, EC-135, T-37, T-38, T-39, T-41, B-707, C-21 (Lear 35), B737, and E-6.
Has served as an aviation consultant in Orlando, FL, since 1997, providing corporations with expertise in aviation safety, safety marketing and management activities, and aviation certifications. Member of Flight Safety Foundation (Icarus Committee), with extensive work on controlled flight into terrain (CFIT) prevention methods and human factors aviation problems.
Associate Professor at Embry-Riddle since December 1997, teaching aviation management, accident investigation, safety program development, and safety courses.

---
Education
M.A.S. - Master of Aeronautical Science in Aviation Aerospace Safety and Av Aerospace Management,

Embry-Riddle Aeronautical University

M.B.A. - Master of Business Administration in Management,

Rensselaer Polytechnic Institute

B.S. - Bachelor of Science in Business Admin: Accounting,

University of Nebraska System : Omaha
---
Ratings and Certificates
---
Currently Teaching
ASCI 604

:

Human Factors Avia/Aero Indus

COIN 696

:

Graduate Internship

COIN 496

:

Co-Operative Education
---