Peter E. O'Reilly
Title

Associate Professor of the Practice, College of Business

Email

Department

Department of Management and Technology

College

College of Business
Office Hours
When needed!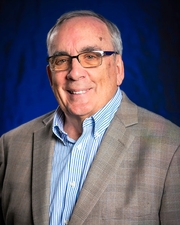 ---
External Links
---
Biography
I received a B.S. in Marketing from St. John's University in Brooklyn, NY.  Shortly after, I earned my M.B.A. in Marketing Management, from St. John's University in Jamaica, NY.  After working in business for several years and supporting my wife in raising our family, I was awarded my doctoral degree (DPS) in two majors, International Business and Strategic Management, from Pace University in New York, NY. My doctoral dissertation was on professional service marketing.
At Embry-Riddle Aeronautical University I have taught at the ERAU- Worldwide Campus, the ERAU-Asia Campus in Singapore, and as part of the ERAU-Brazil Certificate Project in Sao Paulo, Brazil.
At ERAU I have taught a wide array of graduate and undergraduate business courses in the fields of strategic planning, international business, global logistics, management, business policy, leadership, organizational behavior, business communications, marketing, human resources management, and supply chain management.
Currently, I am an Associate Professor in the Department of Management and Technology. Prior to that I was the Director of Faculty Engagement for the College of Business. In 2021 I was elected to the Faculty Senate. Since 2018 I have been a Certified Coach and have coached over 100 students with their life and academic goals.
I have also served as the Program Chair for the MSM, BSTM and ASTM Programs. 
Besides my educational background, I bring to learning my professional experience as a business executive.  I retired from MetLife, as Chief Procurement Officer, after a thirty-year career.  After this retirement, I have served as the Chief Procurement Officer for E&Y, AIG, and the AmeriGroup.
My professional affiliations include the Institute for Supply Management and the ISM Services Group, where I was the chairperson of that 1,700-member organization.  I am currently on the Board of Directors for ISM-Arizona. For the past twenty years, I have given presentations on online engagement activities, strategic management and supply chain management topics across the country.
My wife and I have had a home in Arizona for over twenty years, before that, we had lived in New York and Virginia.
My hobbies include golf, softball, reading, pickleball, biking, snorkeling, and riding my Missouri Fox Trotter, Pepsi, in the Tonto National Forest.
My main goal, as a business executive, was to develop people.  That is also my chief goal as a teacher, to enhance Students' learning experiences. I also enjoy bringing my real-world business experiences into the classroom.
---
Education
D.P.S. - Doctor of Professional Studies in Business, Pace University-New York
M.B.A. - Master of Business Administration in Marketing, Saint Johns University
B.S. - Bachelor of Science in Marketing, Saint Johns University
---
Ratings and Certificates
---
Currently Teaching
OBLD 371: Leadership
MGMT 201: Principles of Management
MGMT 680: Strategic Action
MGMT 436: Strategic Management
---
Courses Taught
MGMT 371- Leadership
---
Memberships and Credentials
ISM. CTA, OLC, ISM-AZ
---