Rachel M Vigness
Title

Associate Professor of the Practice, College of Business; Assistant Dean of Student Success and Accreditation, College of Business

Email

Department

Department of Business Administration

College

College of Business
Office Hours
Tuesday & Wednesday, 11:00am-1:00pm(ET) & By Appointment
Areas of Expertise
Consumer Behavior
Service Ecosystems & Quality
Innovation & Digital Marketing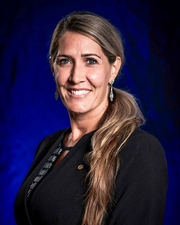 ---
External Links
---
Biography
Dr. Rachel Vigness is an Associate Professor of the Practice in the Marketing discipline.  She also serves as the Worldwide College of Business, Director of Student Success and Communication.  She has over 20 years of experience in a variety of industries including: financial, automotive, higher education, and public service. 

Education: Rachel Vigness earned her Bachelor of Arts in Management with a minor in Economics from the University of Minnesota - Morris. She then went on to study at Florida Atlantic University earning a Master of Business Administration with a specialization in Marketing. In 2010, she completed a Master of Science in Project Management program at Embry-Riddle Aeronautical University and subsequently became a certified Project Management Professional (PMP). She most recently completed a Ph.D. in Business Administration, specializing in Marketing. 

Organizations: Rachel Vigness is a member of various industry and professional organizations, including the American Marketing Association (AMA), Academy of Marketing Science (AMS), and the Project Management Institute (PMI).   

Awards and Experience: Previous to her faculty appointment at Embry-Riddle, she held the position of Associate Dean of Academic Support within the Eastern Region of Embry-Riddle Aeronautical University - Worldwide from 2007-2013. That position followed her role as the Director of Operations at the Embry-Riddle Aeronautical University - Robins campus. Throughout her career, she has worked on various projects including new campus launches, strategic marketing campaigns, and product development/design. She has received various commendations throughout her years of service at Embry-Riddle, including the Teacher of the Year (Worldwide College of Business) and was selected as Employee of the Year for her successful marketing contributions at ANSA Automotive. Named to the Dean's List during her undergraduate studies, she excelled at the graduate level achieving the honor of "with distinction" in the MS in Project Management program. 

Interests: Rachel Vigness enjoys spending time with her family and in her spare time enjoys traveling and staying active! 
---
Education
Ph.D. - Doctor of Philosophy in Business Administration: Marketing, Northcentral University
M.S. - Master of Science in Project Management, Embry-Riddle Aeronautical University
M.B.A. - Master of Business Administration in Marketing, Florida Atlantic University
---
---
Currently Teaching
MKTG 633: Digital Marketing
MKTG 449: Strategic Marketing Management
---
Courses Taught
MKTG450 – Airline/Airport Marketing
MKTG449 – Strategic Marketing Management
---
Publications
---
Memberships and Credentials
Academy of Marketing Science, Member, 2017-present
Accreditation Council for Business Schools & Programs, Member, 2014-present
American Marketing Association, Member 2017-present
Council for Undergraduate Research, Member, 2013-present
MBAA International – Business, Society, and Government, Member, 2017-2019
National Organization for Student Success, Member, 2022-present
Project Management Institute, Member, 2013-present
---
Awards, Honors and Recognitions
2018: Student Research Award (MBAA International, BSG Consortium)
2018: Teaching Award (ERAU-W College of Business, Department of Decision Sciences)
2020: Teaching Award (ERAU-W College of Business, Faculty of the Practice)
2020: Lifelong Learning Award (ERAU-W College of Business, Faculty of the Practice)
2021: Certificate of Appreciation (ERAU-W, 15-Year Service Recognition