Raymond Sanders
Title

Assistant Professor

Email

Department

Accounting, Economics, Finance & Information Sciences

College

College of Business
Areas of Expertise
Topics related to the instruction and application of economics and finance including comparative advantage, price elasticity, competitive markets and externalities.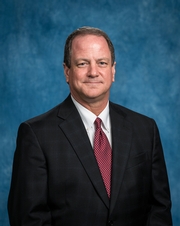 ---
External Links
---
Biography
Raymond Sanders is an assistant professor at the O'Maley College of Business and teaches courses in economics, finance and management. Prior to joining the University in 2012, he served in a variety of leadership positions including Executive Director and Regional General Manager, Asia-Pacific for Interval International; Director of Product and Process Development for the vacation subsidiary of Marriott International; and Business Analyst for Disney Development Company, a subsidiary of the Walt Disney Company.

A former board member of the Pacific Asia Travel Association, he has also served on industry associations, committees and panels throughout his career. A licensed private pilot, he is also an avid amateur mountaineer with climbing experience on five continents. He has traveled extensively throughout Asia, Australia, New Zealand, East Africa, Western Europe, North America and the Pacific Islands.

He is currently active as an assistant scoutmaster for the Boy Scouts of America and as a volunteer with his church, and has been involved with Junior Achievement, Big Brothers, school advisory councils and the Humane Society. He earned a Bachelor of Science degree in business administration from the University of Maryland in College Park and a Master of Business Administration degree from the University of Central Florida in Orlando.
---
Education
M.B.A. - Master of Business Administration in Business Administration, University of Central Florida
---
Currently Teaching
EC 200: An Economic Survey
EC 211: Macroeconomics
EC 399: Special Topics in Economics
EC 299: Special Topics in Economics
BA 399: Special Topics in Management
---
Courses Taught
EC 200 - An Economic Survey
EC 210 - Microeconomics
EC 211 - Macroeconomics
EC 299/399 - Special Topics in Economics
BA 332 - Corporate Finance
BA 299/399 - Special Topics in Business
HON 250 - Honors Seminar II
BA 201 - Principles of Management
---